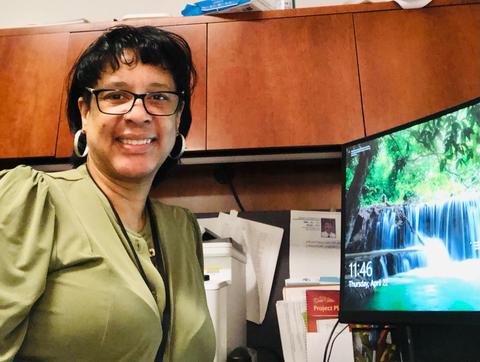 Taking the latest invention out of our laboratories and into the marketplace isn't a simple jaunt from point A to point B. NIST lead patent paralegal Dana Bowins is here to facilitate that (sometimes bumpy) journey.
Dana joined NIST in 2015 after decades at private law firms and corporations and, before that, an administrative tour in the U.S. Navy that only augmented her competitive nature. Over the years, she rose in the ranks as a self-taught asset who constantly sought new opportunities to learn and become an expert in all areas of her field.
And patent licensing demands every bit of her attention to detail.
Tight deadlines and milestones rule the world of intellectual property law. At any stage of the collaboration between the inventors' organization and the U.S. Patent and Trademark Office, missing the mark could cost significant coin or jeopardize the patent's success entirely.
To make matters wilder, even changing a single bolt on an invention's design (in patenting terms) turns that design into a brand-new invention in need of a separate application.
Multiply the complicated process for one patent by 50 or 100 and you'll calculate the massive multitasking effort that Dana puts into every workday. Fortunately for the inventors at NIST, she's up for the challenge.