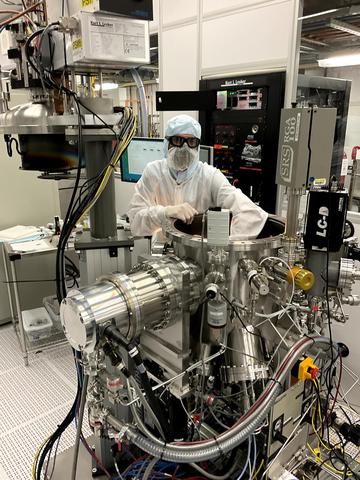 To understand climate change, scientists need the ability to constantly measure the solar radiation entering and leaving the Earth's atmosphere. Researchers have been tracking the changes in radiation for 40 years, and it's time to replace their older sensors.
NIST has taken up the challenge. That means making the sensors smaller, better ... and blacker.
Darker material absorbs a broader spectrum of solar radiation (think of how much warmer you are when wearing a black T-shirt on a sunny day). To make small and absorbent thermal detectors, our researchers (such as Nathan Tomlin, shown here) use vertically aligned carbon nanotubes that are hundreds of times thinner than a human hair.
To get these detectors into orbit, we collaborate with the University of Colorado Boulder's Laboratory for Atmospheric and Space Physics, Ball Aerospace and the National Aeronautics and Space Administration. The Libera is the next detector ready for liftoff, scheduled to launch aboard the Joint Polar Satellite System-3 satellite in December 2027.
Learn more about NIST's detectors.