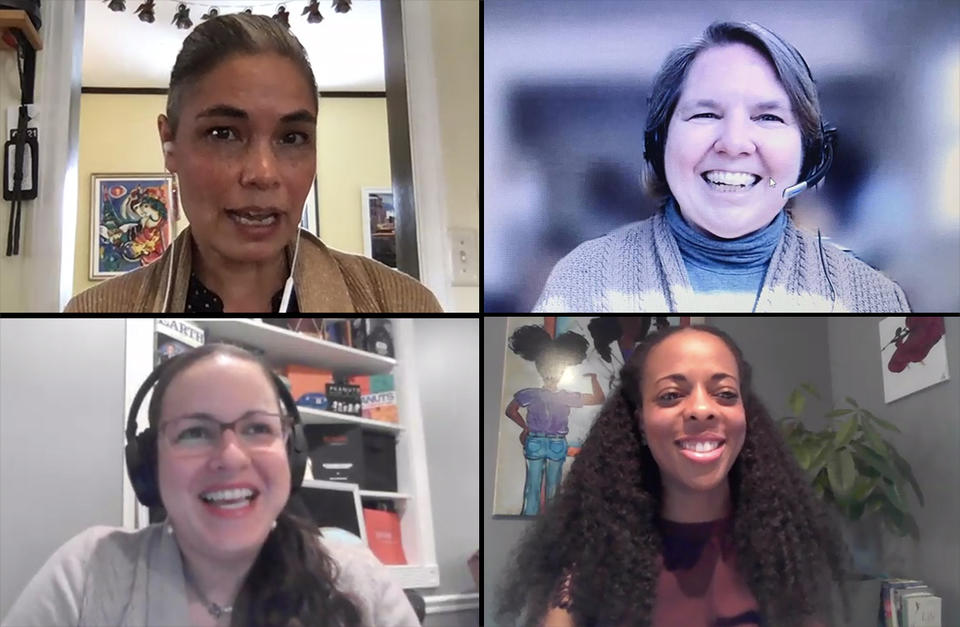 ---
Twenty-three middle-school girls from the St. Vrain Valley School District in Longmont, Colorado, have logged on to their school tablets and laptops for a special kind of class on a frigid February afternoon: an introduction to coding — a new experience for some of them — and to learn what a career in science, technology, engineering and mathematics (STEM) looks like for women. 
And today they have help from scientists at the National Institute of Science and Technology (NIST) in Boulder, Colorado, including Boulder Laboratory Director Marla Dowell, who oversees communications technology research and serves as the scientific director for the entire campus. Looking at the girls signed on to the YWCA Boulder County  video call, Dowell saw herself at that age — curious, eager to learn, but hesitant to speak up in science class. She and her fellow NIST panelists are here to encourage them to try.
"I was just like you," she told them. "Just try."
According to the U.S. Bureau of Labor Statistics, STEM professions are among the fastest growing occupations in the American economy. However, women — especially women of color — are still underrepresented in science and engineering jobs, making up only 29% of those professions in 2017. That gap is particularly pronounced in computer and mathematical sciences. As the computer sciences workforce grew at the turn of the millennium, the percentage of women working in that field dropped from 31% to 25% between 1993 and 2010. 
That diversity gap ultimately means that STEM employers are working with a limited talent pool, and missing out on new ideas, perspectives and people, Dowell pointed out.
"To hire the best people, you need a talent pool that is representative of the entire U.S. population, not one that is dominated by one demographic," she said. "Creating open, transparent and inclusive learning and work environments will help us grow a diverse STEM talent pool." 
And that gap forms early; as early as seventh grade, girls begin saying they're not good at math, said Debbie Pope, CEO of YWCA Boulder County. 
"Sometimes you're the only woman in the room, or the only person of color. Sometimes you might not want to show up, or not want to speak up."  —Tara Fortier, NIST physicist
The YWCA Code Jam grew out of a partnership between Google and the YWCA to stop that gap from forming at that crucial middle-school age. As a developing tech hub, Boulder was selected alongside Los Angeles as a place to run a pilot program. Each program emphasizes reaching young girls of color — 32% of students in the Boulder Valley School District and 37% of the students in the St. Vrain Valley School District identify as part of a community of color.
Coding is an increasingly required skill across STEM fields. As part of the event, the students learn the basics of coding with a platform called CodeMonkey. Those who are interested in learning more about coding can join a seven-week program with YWCA to expand their skills.
"This is an introductory space for young girls to get a taste of what coding is," Pope said. "The real goal is for young girls to see the opportunities there are in STEM and give them the confidence to learn and build those skills." 
But young people need to do more than play some coding games, Pope said. They need to hear from women who look like them, who can share their experiences and advice.
When Joanne Krumel, a prize challenge specialist at NIST, read about the first Code Jam in the Boulder Daily Camera, she approached Dowell about how NIST, as a prominent research institution and local STEM employer, could help. After talking with Pope, NIST Boulder offered to partner with YWCA Boulder County to host these events. Hearing from a community of renowned scientists at NIST "in their backyard," all of whom pursue a variety of research, is a real eye-opener for the Code Jam girls.
"When they can see other women whom they can see themselves in, when they can hear the journey of these women, it's incredibly powerful," Pope said — for many of their participants, it's the best part of the event. "With NIST, it's such a multifaceted world, and the girls get to learn about different positions" in the scientific field.
Education outreach to K-12 students is a personal passion for Dowell. She grew up with supportive scientist parents, for whom STEM offered opportunities beyond their rural backgrounds, from world travel to meeting the U.S. president. Not only did her parents encourage her to put in the hard work toward a STEM career, Dowell credits her career to numerous supporters who pushed her to keep going. That's why she encourages NIST staff members to participate in events like these when they can.
"I've benefited enormously from the encouragement of others and believe that anyone who has had the benefit of a mentor, a teacher or a community member that was instrumental in setting them off on a STEM career has a responsibility to give back to other early-career STEM folk," Dowell said. 
"We're here to tell you, yes, you can do this. Keep showing up. Keep trying."  —Diana Ortiz-Montalvo, NIST research chemist
At the February event, NIST's Jeanita Pritchett, Diana Ortiz-Montalvo and Tara Fortier shared their experiences with the St. Vrain students. Ortiz-Montalvo spoke about leaving her family in Puerto Rico to pursue her degree — the first in her family to get an advanced degree. Fortier revealed that she wanted to be an artist as a child, and that her love for art led her to study optics. Pritchett talked about how she has learned to "fail forward," taking failures as opportunities to learn and try again.
They all recalled facing naysayers and bullies, and overcoming their own self-doubts. And while vision boards and self-affirmations can help fight those nagging doubts, it's important to surround yourself with those who support you, your "sisters in STEM," Pritchett added.
"Start building your network of those who support you," she said. "There are others who want to share that excitement for STEM with you" — including herself and her fellow panelists.
"Sometimes it's hard to be a woman in science," Fortier said. "Sometimes you're the only woman in the room, or the only person of color. Sometimes you might not want to show up, or not want to speak up."
"We're here to tell you, yes, you can do this. Keep showing up. Keep trying," Ortiz-Montalvo added.
Dowell echoed those sentiments. Being different can be an asset, she said. 
"In high school, college and throughout my career there have been naysayers who have made stupid, discouraging remarks about being a woman in a STEM career. Ignore them. Nurture your support group," she said. "Sometimes being the only woman or girl in the room can feel like being a zebra in a herd of horses. Just keep in mind that zebras have better stamina and maneuverability. When I was in high school, I never raised my hand in my STEM classes because I didn't want to draw attention. Today, I've embraced being different from my peers. I've used my physics background in nontraditional ways to have impactful outcomes on welding, communications and medical laser applications. I like to think that my physics legacy is impacting the larger community in their everyday lives."  
And hopefully, Dowell and her panelists add, when the COVID-19 pandemic is over the students can come see their work in person, which was the original plan for these events. Until then, NIST is committed to continuing to partner with YWCA Boulder County on these virtual events — something that Pope is grateful for. The ongoing pandemic has only widened the opportunity gap for girls and communities of color as families have lost income and resources, she said. 
"It's even more important than ever. We can't lose this time with these young girls," Pope said.