Welcome Dr. Andrew Maizel and Mr. Mike Heck to the Flammability Reduction Group within the Fire Research Division (FRD) as Professional Research Experience Program (PREP) researchers.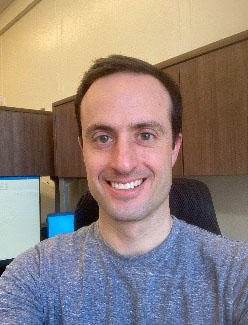 Dr. Andrew Maizel  - Andrew obtained a PhD from the Remucal Lab at the University of Wisconsin-Madison where he studied the environmental transport and fate of natural organic matter.  Andrew comes to NIST following a postdoctoral fellow in the Higgins Lab at the Colorado School of Mines, where he researched the environmental mobility of PFASs released by the use of aqueous film-forming foams used as hydrocarbon fire suppressants. Over the next 3 years, Andrew's focus will be on the identity and concentration of per- and polyfluoroalkyl substances (PFASs) in firefighter gear and present at fire scenes. This will include developing analytical methods for the extraction of PFASs from firefighting textiles and using high-resolution mass spectrometry to identify novel PFASs. 
Andrew moved a bit growing up and has lived in the District of Columbia, Virginia, Maryland, North Carolina, Germany, England, California, Wisconsin, Colorado, and Washington State. He attended Beverly Hills High School and can give you the scoop on any of your favorite 90210 characters! Andrew is looking forward to meeting everyone when NIST opens up again! He enjoys the outdoors and can't wait until the climbing gyms reopen and his two-year old is big enough for his own harness.
Mr. Mike Heck - Mike has joined NIST after completing his MS degree in Fire Protection Engineering from the University of Maryland.  At UMD he studied the effects of wind and slope on wildland fire flame spread.  Mike was brought to the FRD to lead the design, construction, and operation of fire testing equipment of varying scales and product applications.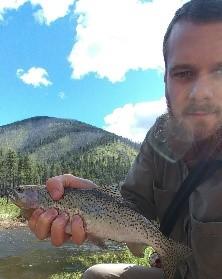 He is currently working on full-scale vertical fire spread tests to be used as inputs and validations in computational fire spread models.  Additionally, Mike will be managing the FRD's cone calorimeter facility.
Mike is originally from the eastern shore of Maryland.  He is an avid outdoorsman and enjoys hiking, camping, mountain biking, snowboarding, fly fishing, and hunting. Mike also enjoys spending time with his large family and can trace his family lineage in the US to prior to the Revolutionary War.