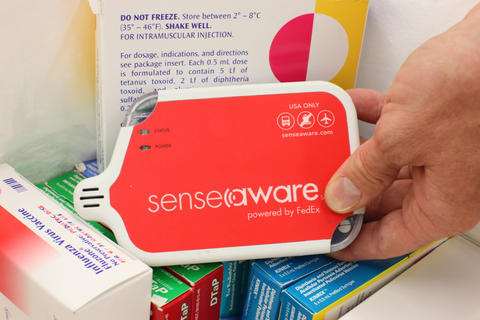 Delivery trucks are shipping COVID-19 vaccines across the nation, and their cargo needs a cold journey to stay viable (minus 80 degrees C, colder than a typical winter day in Antarctica). It all depends on reliable, chip-scale sensors that track the temperature in transit.
Our role in that technology goes back a decade.
In 2010, FedEx reached out to NIST for our expertise as it developed a new device to place inside packages with special contents, such as vaccines, organ donations and even high-profile artwork. Using GPS, the device would send near-real-time information on the package's location and the environmental conditions inside, including temperature, humidity, pressure and exposure to light.
NIST helped to iron out some technical kinks with the device's measurement technology and established a way to trace the measurements back to the SI (the modern metric system) using rigorous scientific methods. Shortly thereafter, FedEx spun off a company called SenseAware that commercialized the device. 
A year later, a medical package containing a donated heart for an organ transplant was being transported across Los Angeles and the device — for the first time — came along for the ride. NIST scientist Greg Strouse watched from a computer screen as it successfully monitored the package's temperature and other environmental conditions during its journey.
NIST worked with SenseAware over several years. It became a self-sustaining company and manufactures the devices to this day. Nowadays these devices are smaller, the battery life is longer and GPS technology works better. But this cool technology has the same important function, and it's headed across the country right now.