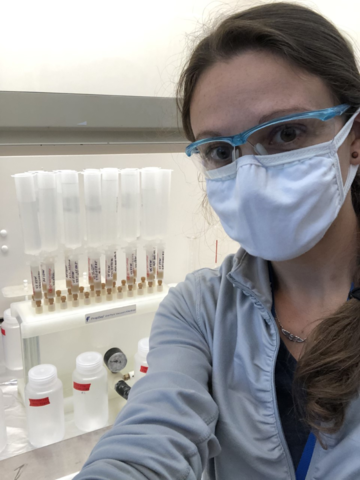 Search, seek and define — NIST postdoctoral researcher Kathy Peter is on a mission to uncover chemical compounds that fall into the category of PFAS (per- and polyfluoroalkyl substances), human-made chemicals that can linger in the environment for decades.  
Kathy's mission began long before her formal entrance into the scientific community, though. Her grandparents had 60 acres of land in Ohio and, growing up, she found a passion for nature there.   
It became evident that the passion couldn't be ignored during college, when Kathy switched from chemical engineering in her undergraduate studies at Washington University in St. Louis to environmental engineering for her Ph.D. At that point, her day-to-day studies at the University of Iowa revolved around developing nanomaterials to treat contaminants in drinking water.
Then came another switch at the University of Washington Tacoma Center for Urban Waters, where Kathy held her first postdoc. UWT exposed her to source identification: not only discovering chemicals but tracing where they came from in the environment. It's a niche that Kathy entered, and continues to excel in, today.
Now, she's working for NIST at the Hollings Marine Laboratory in Charleston, South Carolina. Kathy uses high resolution mass spectrometry to form a rich fingerprint of each chemical and see as many PFAS chemicals in a sample as possible. PFAS can seep into the environment from a number of sources —  firefighting foams, wastewater treatment plants, landfills — and Kathy's analysis helps us understand which of them contributed to the sample.  
Her efforts are part of a larger project funded by the U.S. Department of Defense (DoD) to create a mass spectral database of those fingerprints. This database, along with a better understanding of where these chemical compounds originate, will support efforts to understand and address important sources of PFAS chemicals.  
From Ohio to Missouri to Iowa to Washington to South Carolina: Kathy values the distinct water quality of each location along her cross-country professional journey: agricultural pollution, small urban streams, swamplands. As we look back with her, we can't help but also look forward to the discoveries her experiences will help to reveal.