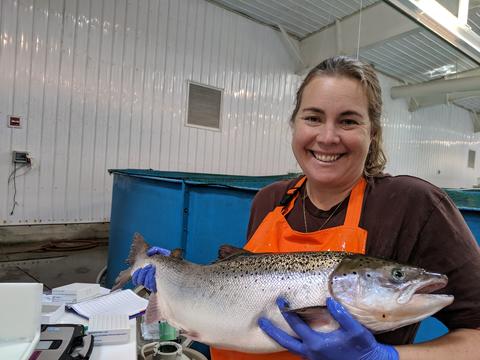 Something smells fishy, and NIST postdoctoral researcher Erin Legacki is on the job to figure out what's happening. The North American Atlantic salmon has seen a substantial decline in fertility during the last two decades, and Erin's background in endocrinology, the study of hormones, makes her the right detective to investigate.
In August 2019, Erin greeted 200-plus live North American Atlantic salmon at the USDA National Cold Water Marine Aquaculture Center in Maine and took samples of mucus from each fish for study. Not all fish secrete mucus, but when they do, they let loose immune cells to protect against contaminants in the water. They also release hormones, the bread and butter for a researcher looking into fish reproductive processes.
Comparing the hormones of different stocks and families of the salmon, Erin hopes to help USDA better measure breeding quality and track the fish reproductive process.