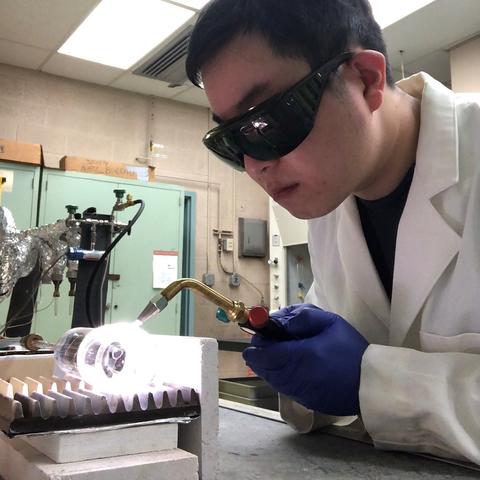 Improve the material; improve life. NIST postdoctoral researcher Zhi Liang believes the development of humanity depends on the development of materials, and few materials are more widely used than metal. It's what fascinates him about the development of metal and propels him forward in his own research career.  
Through the NIST Professional Research Experience Program with the University of Maryland, Zhi joined a team hoping to revolutionize the metal manufacturing industry with a computational approach. The traditional trial-and-error process for materials can take 10-20 years before success, but using a computational method to predict properties of the final product could potentially reduce that turnaround time to three to five years.  
Zhi currently is developing a framework to evaluate new materials for the 3D printing process that is currently gaining popularity in manufacturing. This includes experimental efforts to expand the materials database in the lab, as shown here. It's all part of a larger collaboration between researchers at the Center for Hierarchical Materials Design, one of NIST's centers of excellence.   
Specifically, he's working with alloys out of titanium, his favorite metal and the inspiration for his previous Ph.D. work. Titanium is strong, lighter than steel and can still perform well at high temperatures, which is what makes it useful for aeronautics.  
But, as Zhi learned from his academic adviser, titanium manufacturing hadn't grown in decades, and the commercial titanium used today is the same formulation that came into the market in the 1960s. The lack of growth has been mostly due to expenses, especially the cost of cutting components out from metal sheets or blocks.  
Now, a new type of manufacturing has emerged. 3D printing promises to cut down costs, in some cases by 50%, because the process builds structures from the ground up and doesn't leave excess material that need to be removed.  
And here's Zhi, ready to explore computation for 3D printing titanium so that manufacturers can figure out the best and fastest way to build their designs from the dream metal.