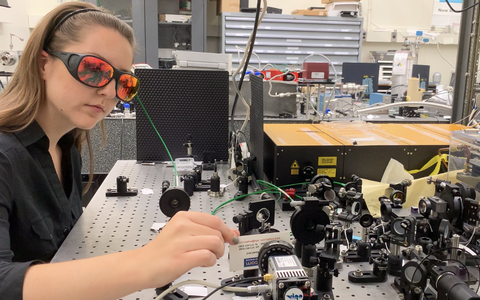 Over the course of seven years, recent postdoctoral researcher Michelle Bailey went from spending summers in the Alaskan wilderness to pushing boundaries in NIST's state-of-the-art labs. How did she get from point A to point B? See for yourself. ...  
When Michelle went to The George Washington University for graduate school, she soon found herself immersed in a laser spectroscopy project that had her building instruments from the ground up. Often, she and her colleagues were asked if they were truly engineers instead of chemists, since they focused so much on the technology and its applications in chemistry.  
The research team transported her instrument piece by piece from the East Coast to Alaska, reassembled it in a hotel room and then hiked it into the swampy wilds. Their goal was to examine permafrost thaw, a source of carbon, and its potential effects on the environment.
But the timetable for the entire process was rough, with a year's worth of preparation and only four weeks to gather the precious data in the field. After repeating the cycle three times in five years, Michelle traded in her gum boots and bug net in search of a stable and cutting-edge environment at NIST.  
Since September 2018, Michelle has been at our campus in Gaithersburg, Maryland, to complete her postdoc through the NRC Research Associateship Programs. She and her colleagues focus on high-quality laser spectroscopy, using optical frequency combs and high-speed camera technology to look closely at gas molecules.  
Specifically, they've been homing in on nitrous oxide, a greenhouse gas with stronger concentrations in Earth's atmosphere year over year. Using frequency combs, they can look at the different molecular configurations of the gas, which can ultimately help determine its origins, be it agricultural or wild lands. Take a look at their recently published work.
Now, Michelle joins her colleagues in a new phase of that postdoc research. The paper proved the concept that we CAN use the technology to precisely identify gas composition. Next, Michelle tackles its operational difficulties, seeking to make the technique automated and user friendly.  
As of Sept. 7, Michelle has shifted from her NRC postdoc status to a federal role as a term research chemist at NIST for another year.