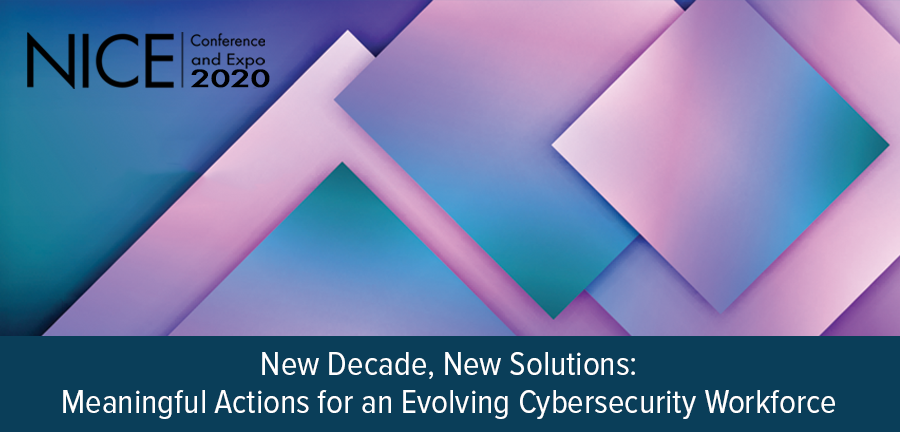 2020 NICE Conference & Expo
REGISTRATION NOW OPEN
WEEKLY CONFERENCE SUB-THEMES
Growing & Sustaining the NICE Community
Tuesday, October 27 | 1 - 5:15 PM EDT
The Learning Ecosystem
Thursday, November 5 | 1 - 5 PM EST
Career Discovery
Monday, November 9 | 1 - 5 PM EST
Talent Management
Monday, November 16 | 1 - 4:45 PM EST
Conference Agenda
Each conference day has been organized so each attendee can attend breakout sessions of their choosing, visit the exhibitor hall, and connect with other attendees in the networking lounge. View the agenda online.
Conference Workshops
Available at an additional cost
The NICE Framework: Adoption Strategies
Thursday, October 29 | 1 - 4:30 PM EDT
Curriculum Development in an Online Platform
Friday, November 6 | 1 - 4:30 PM EST
Building Apprenticeships for the 21st Century
Thursday, November 12 | 1 - 4:30 PM EST
Diversify: The Cybersecurity Survival Guide
Tuesday, November 17 | 1 - 4:30 PM EST
---
This event is supported by the National Initiative for Cybersecurity Education (NICE), a program of the National Institute of Standards and Technology in the U.S. Department of Commerce, under financial assistance award #70NANB18H025.