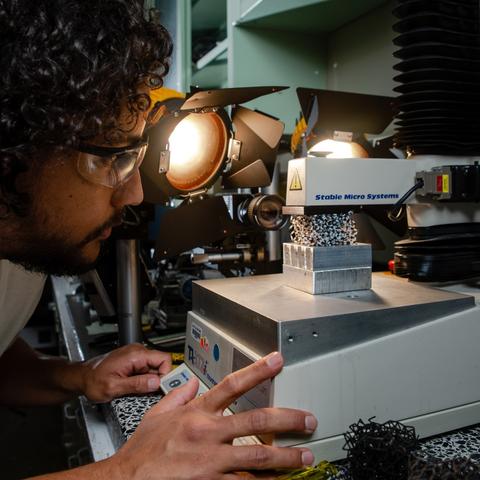 Impact in 3 … 2 … 1 … Meet Marcos Reyes-Martinez, a NIST researcher working to build new materials that could protect fragile items in transit, spacecraft surrounded by stellar debris and even your noggin at a football scrimmage. 
The Process
Step 1: Get to the computer. At the University of Chicago, professors Juan de Pablo, Sidney Nagel and Heinrich Jaeger digitally build an object, using computer simulations to manipulate the geometry of precisely located, interconnected bands of material and voids. 
Step 2: Get to the printer. Over at NIST, Marcos brings that simulation into the real world with 3D-printing technology. With the object out of the cloud and in his hand, Marcos is ready to test it. 
Step 3: Get to the lab. Marcos tests how the object's dimensions change when it's pulled or squished together. Materials found in nature will usually spread outward when compressed. In contrast, this 3D-printed material is designed to fold inward on itself under that same force. That comes in handy when he later drops a weight on the object and measures the force that gets transferred through it. 
Step 4: Get back to the computer. After Marcos finishes testing the object and compiling the data, he sends it back to his colleagues in Chicago so that they can compare the real-world results to what their computer models originally predicted. 
The whole collaboration started through a center of excellence funded through NIST — the Center for Hierarchical Materials Design, or CHiMaD. Where it ends could be in your next delivery, on your head or out in space.