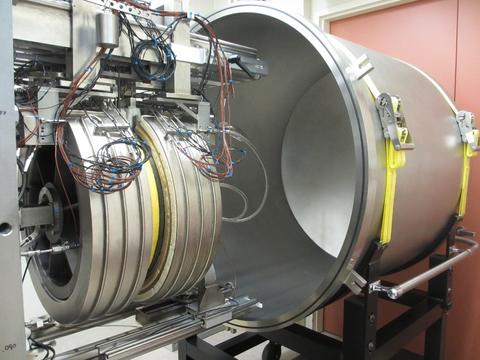 Feeling hot, hot, hot … but this thermal insulation standard reference material (SRM 1450e) can help you take the heat, both in an apartment building and in space. 
How it works: Researchers check the SRM and our printout of its properties against their own guarded hot plate (like the NIST one shown here). That way, they can make sure the instrument in their lab accurately measures how a material can resist or conduct heat. 
Among the NIST thermal insulation SRMs, the construction industry uses this one most, evaluating commonly used insulation materials such as cellular plastics, fiberglass or mineral wool for buildings. 
But some years ago, researchers at the European Space Agency and Japan Aerospace Exploration Agency acquired the SRM for an astronomical aspiration. In 2018, the agencies together launched a space mission called BepiColombo with a probe destined for Mercury. 
To keep cool around all the radiation in space, the craft needs to collect heat with solar panels, transfer it through the panels' supporting structures and push it back out into the stellar beyond. 
Are the probe's materials up for the task? Before answering that burning question, the researchers needed to make sure their test methods were accurate. Cue NIST's thermal insulation SRM, with measurements that helped the scientists ensure that the supporting structures were doing what they were designed to do. 
And with that, BepiColombo was one step closer to launch and more prepared for one giant leap into discovery.