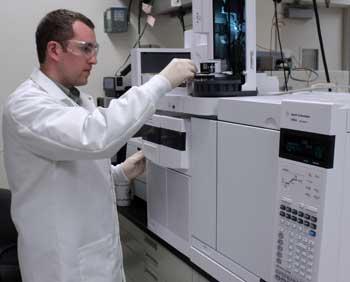 Particles, big or small: NIST's Elijah Petersen is ready to investigate them all. Walk through the phases of his professional journey in chemical toxicity: 
Phase I (2009-2018): Because we're living in a nanoparticle world. 
Nanoparticles — found commercially in everything from food packaging materials to baseball bats — are weird. For one thing, nanoparticles can stick to each other and grow in size.  
The strange way that these particles interact can affect test results, which makes it difficult to determine potential health and environmental risks for the commercial products made from them. Elijah spent the first nine years of his time at NIST specializing in nanoparticles and adapting the test methods for their unique qualities. 
Phase II (2018-Present): No animals were harmed in the making of this post. 
To determine the safety of products such as cosmetics, companies and regulators alike are seeking alternatives to animal testing. The European Union and some U.S. states even ban cosmetic products tested on animals. Different countries having different rules can set up trade barriers that can affect U.S. commerce. 
Options include chemical, small organism (e.g., worms) and cell-based test methods, but for regulators and consumers to have confidence when evaluating potential product risk, the first step is to ensure the testing is reliable. That has been Elijah's focus for the past few years, expanding beyond nanoparticles and into the realm of alternative testing for all sorts of substances. 
Elijah's growth in his career even caught the attention of ACS Publications, which awarded him with its Chemical Research in Toxicology Young Investigator Award earlier this year. Read the write-up on this honor.