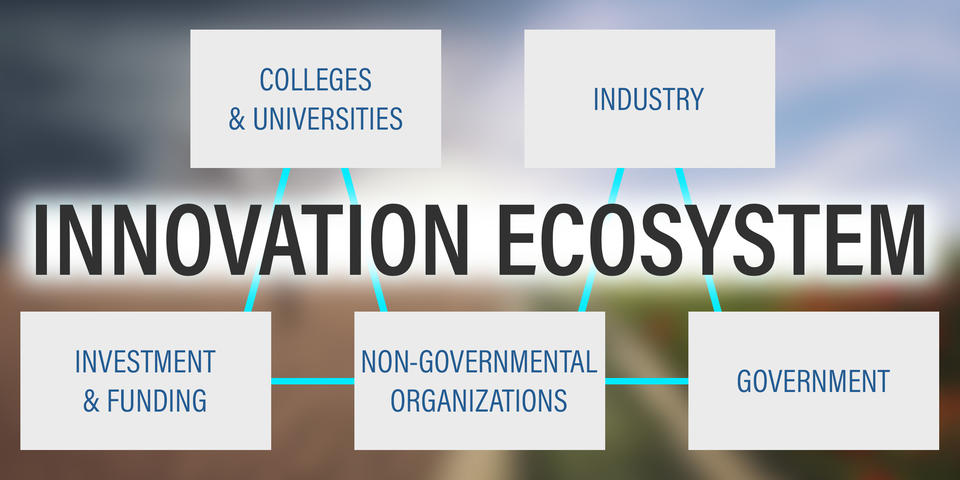 Technology Transfer (T2) involves the movement of scientific discoveries and innovative technical knowledge from the federal laboratories to the private sector for commercialization. How do we know, though, that T2 is occurring? Patenting, licensing, collaborative research agreements, publishing and contracting are all examples of T2 activity. While robust T2 activity is necessary and should be encouraged, this activity alone is insufficient to accomplish the Federal T2 mission. So, what is missing?   
Enter the concept of an evolving ecosystem driven by technological innovation and technology-related entrepreneurship. An innovation ecosystem encompasses the economic, commercial, educational and technological realms which provide opportunities to work, form businesses, invest, retain highly skilled work forces and generate economic product. In effect, the ecosystem provides a structure to achieve the benefits of individual T2 activities. As a long-term evolving model, the ecosystem continuously responds and modifies itself according to the emerging needs of the individuals, firms and other parties engaged in T2 activities.
History offers many examples of the formation and evolution of technology-driven innovation and entrepreneurship centers, such as steel making centers in Italy, Germany and Austria and textile manufacturing in pre-industrial revolution England and Scotland with weaving technology imported to New England. The emergent ecosystems drove migration of labor from farms to cities and led to the formation of the nineteenth century industrial cities. In their book, Invented Edens, Robert Kargon and Arthur Molella refer to these as "Techno-Cities" which evolved to support the commercial exploitation of emerging technological innovations of the nineteenth and twentieth centuries.[1]
While T2 activities, such as patenting, licensing and research collaborations, at their most elemental level are productive on a one-on-one basis, T2 professionals must always be aware that their activities are part of a larger, slower, sometimes imperceptible process leading to the formation of unique, technology-driven ecosystems. Moreover, it is these ecosystems that facilitate the commercialization of technology needed for economic growth. T2 activities spur the evolution of innovation and entrepreneurship ecosystems and these ecosystems act to accelerate the process of T2.