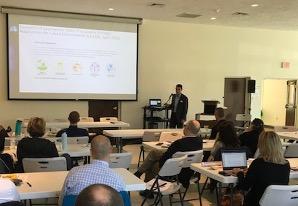 The NIST Community Resilience Program was invited by the University of Maryland's (UMD) Center for Global Sustainability to support an initiative to aid local Maryland counties' climate resilience planning and finance efforts. NIST Community Resilience Program researchers, Christopher Clavin, Therese McAllister and Mat Heyman, worked with Joanne Throwe and Dan Nees of UMD to support community resilience planning with Anne Arundel County, Charles County, and Queen Anne's County, Maryland.
The UMD Center's County Climate Resilience Planning and Financing Initiative for Maryland Counties completed its first phase of activities between August 2019 and January 2020. The Initiative provided a process for developing county resilience goals, objectives, and identification of vulnerabilities to help prioritize potential solutions for each county. NIST's Community Resilience Guide's 6-step planning process was presented to key stakeholders of all three counties during a series of workshops and provided the basis for  identifying each county's resilience goals, social functions, and associated elements of the built environment supporting those functions. 
County leaders presented the results of their resilience planning efforts at an event at the Maryland State House on January 15,  2020, where they were joined by Maryland State Treasurer Nancy K. Kopp, Maryland Department of the Environment Secretary Ben Grumbles, and State Senator Sarah Elfreth. The initiative begins phase 2 in 2020 where the three counties will develop climate finance plans to aid implementation of the resilience strategies and priorities.
Additional information: 
UMD Center for Global Sustainability: https://cgs.umd.edu/research-impact/projects/resilience-adaptation-community-building
https://www.southernmarylandchronicle.com/2020/01/15/local-government-leaders-highlight-collaboration-on-climate-resilience-plans/