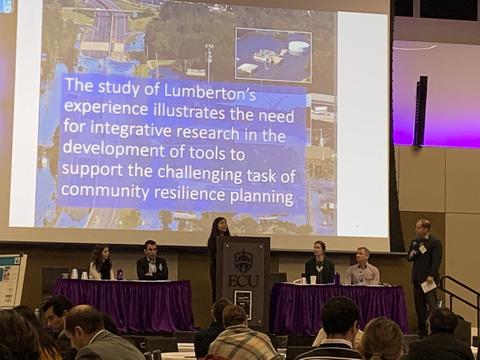 Members of NIST's Community Resilience Program and the NIST-funded Center of Excellence (CoE) for Risk-Based Community Resilience Planning jointly convened a panel session at "HurriCon 2020" to share progress and highlights from an ongoing longitudinal field study on the recovery of the City of Lumberton, NC after Hurricane Florence and Matthew.
CoE researchers teamed with researchers from NIST's Engineering Laboratory to conduct an initial resilience field study focused on the small city of Lumberton and the flooding they experienced from the Lumber River in December 2016. This team made a second field visit to Lumberton in January 2018 and a third round of field visits post-Hurricane Florence. In the "HurriCON" session, members of this cross-disciplinary team discussed some of the features and findings of this longitudinal interdisciplinary study.
The panel, titled "Systematic Tracking of Recovery: A Longitudinal Community-Resilience Focused Investigation in Lumberton, NC Following Hurricanes Matthew and Florence", shared progress on an interdisciplinary three-year (and continuing) longitudinal study in Lumberton, NC. The study seeks to document recovery with a team of researchers from sociology, urban planning, engineering, and economics. The main areas of focus have been impacts to and recovery of housing, businesses, schools, and infrastructure systems. The panel solicited input from HurriCon participants on future topics to add to this study, and Lumberton's recovery in the broader context of community resilience research.
Link to HurriCon 2020: https://www.ecu.edu/cs-cas/hazards/Events.cfm
Link to Lumberton Report for Wave 1: https://nvlpubs.nist.gov/nistpubs/SpecialPublications/NIST.SP.1230.pdf
Panelists/Presenters: