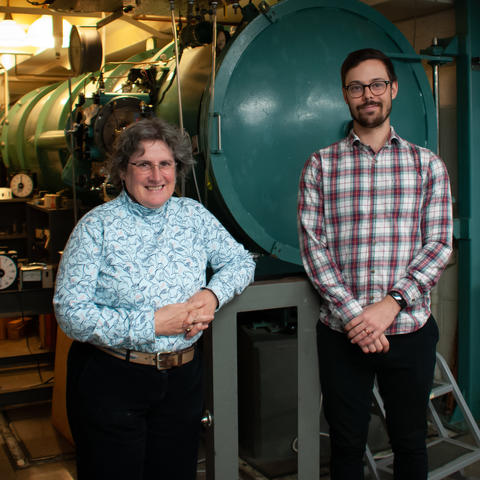 STEM is STELLAR! In November 2019, NIST's Gillian Nave and Jacob Ward brought celebrations of Mercury's transit (the point where Mercury passes between the Earth and the Sun) to around 400 Quince Orchard High School students and curious members of the local community.
First, a little background on the team behind the telescopes: Gillian has been with NIST for 25 years, where she supports measurement data for NASA's Hubble Space Telescope. For four years, Jacob worked at NIST via our Summer Undergraduate Research Fellowship (SURF). Now, he is a guest research assistant while completing his graduate education at the University of Maryland College of Computer, Mathematical, and Natural Sciences.
So what do they do exactly? When a research telescope sets its lens on a star or planet, we can use the reference data that Gillian and Jacob gather to determine how hot it is, how far away it is, how old it is and what the elements are that make it up. Essentially, their research helps astronomers map out the chemical history of the universe. Cool, right?
Gillian and Jacob say they find STEM outreach so rewarding because it is an opportunity to foster the next generation of game changers, some who might never have pursued a career in science because they didn't realize how interesting it could be.
The high-school event was a perfect example. It took a little nudging before some of the students would agree to look, but once they peered through the telescopes, they quickly discovered an astronomical interest. That ended up being the tone of the day: a surprise that this science could be so interesting, coming from kids who might have never been exposed to it otherwise.
To anyone reading now who is finding an unsuspected interest in the inner workings of the celestial beyond, Gillian and Jacob encourage you to reach out to a local astronomy club. Per Gillian, "nothing might happen if you don't try."