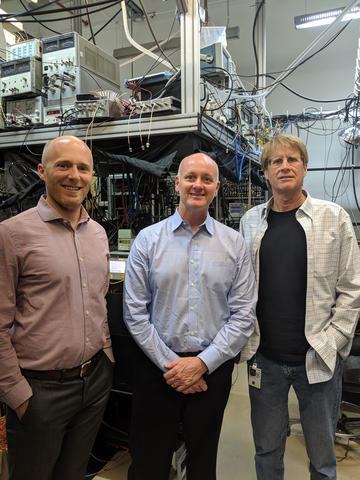 On a recent bright and sunny morning at the NIST Boulder campus, the Technology Partnerships Office (TPO) hosted the kickoff presentation of an impact study quantifying the economic benefits of GPS to the private sector due to federal laboratory research and technology transfer contributions. The GPS study, conducted by RTI International Research Triangle Institute "RTI International" and entitled Economic Benefits of the Global Positioning System to the U.S. Private Sector, examined 10 economic sectors of the U.S. economy that utilize GPS in their day-to-day business activities. These included precision agriculture, financial services, location-based services, mining, surveying, telecommunications, telematics, electricity, maritime navigation, and use in oil and gas industries. The takeaway is the $1.4 trillion that U.S. private sector industries have gained in economic benefits since it was made available to the private sector in the 1980s.
Led by RTI's Director of Innovation Economics, Alan O'Connor, the recently completed GPS study was an intense, three-year effort under a NIST-TPO cooperative agreement. The briefing was held June 25, 2019 in the Boulder campus auditorium, mainly before some 40 Time & Frequency (T&F) Lab scientists, who listened intently to O'Connor's soft-spoken delivery, and proved to be an interested and inquisitive audience. The Boulder Time and Frequency Lab, under the direction of Dr. Chris Oates at the time of the study, was instrumental in O'Connor's research.
 
Dr. Courtney Silverthorn, TPO's Deputy Director, in her upbeat and straightforward style, provided the introductory remarks for the one-hour briefing, and explained the backdrop for the role that economic impact studies such as this play in measuring the benefits gained from federal research investments and federal technology transfer efforts under the administration's Lab-to-Market initiatives. She segued to two of the study authors for the main presentation: O'Connor and Kyle Clark-Sutton, a Research Economist out of RTI's Research Triangle Park office. O'Connor and Clark-Sutton worked in tandem, O'Connor presenting the study's overall findings, Clark-Sutton describing some of the individual case studies.
O'Connor noted that GPS delivers an extremely precise positioning, navigation, and timing signal to users around the world. Originally launched for U.S. military use, in the years since its signal was made available to the private sector it has enabled innovators to develop a host of applications, services, and products. These advances have led to substantial gains in productivity, efficiency, and personal enjoyment.
He explained that the focus of their analysis was on the estimation of the economic benefits of GPS to the U.S. private sector that could be attributed to federal laboratory contributions, and provided estimates from two perspectives. First, RTI quantified the value of GPS relative to a counterfactual scenario of alternative technologies and systems for the period from 1984 to 2017. Second, they estimated what the potential impacts would be if a GPS outage were to occur today. They combined insights from nearly 200 experts in the use of GPS for specific applications, surveys of professional surveyors and smartphone users, economic modeling tools, and national statistics.
For the United States alone, RTI estimates that GPS has generated roughly $1.4 trillion in economic benefits (2017$) since it was made available for civilian and commercial use in the 1980s. The study authors further estimate that the loss of GPS service would average a $1 billion per-day impact to the nation. If the outage were to occur during the critical planting season in April and May and lasted multiple weeks, the impacts could be as much as 50% higher because of the widespread adoption of GPS-enabled precision agriculture technologies by American farmers. Benefits comprise productivity gains from new and existing products and services, improvements in quality, increases in personal enjoyment, and environmental and public health impacts.
An important observation they made from assessing the benefits of GPS is the relationship between science investments, private-sector innovation, and time. The availability of a reliable, accurate, and extremely precise timing signal meant that innovators had one less barrier to their development of the technologies and applications that are pervasive today and that generate the lion's share of GPS's economic benefits.
RTI also emphasized that GPS is a platform for innovation. With the support of federal agencies, private enterprise has leveraged GPS to deliver value through precision agriculture, advanced logistics and route optimization, high-speed wireless services, and a host of other applications. To bring the technology's use home, they point out that for most Americans, the impact of GPS is as near as their smartphone. Using maps and navigation, social networking, shopping, dating, and relationships are all supported by their phones' location services. GPS is a link between innovation within the national lab system, technology transfer to the private sector, and the tools of their everyday lives.
After a Q&A session with the T&F lab attendees and other members of the audience, Dr. Oates and his T&F colleagues invited the RTI and TPO group to have a look-see at one of NIST Boulder's icons, the Ytterbium (Yb) Lattice Clock: a high stability, high accuracy optical atomic clock based on thousands of Yb atoms confined to an optical lattice. Considered the most stable and accurate clocks in the world, they are expected to have future impacts on advanced communications and a broad range of precision measurements far beyond enabling GPS and other timekeeping functions.
Dr. Oates later remarked that the T&F folks who attended the session found the science in the presentation to be impressively accurate, given that the speakers were not subject matter experts. Alan O'Connor and Kyle Clark-Sutton are pleasant, enthusiastic researchers who enjoy their work.
The interagency policy group, under Dr. Silverthorn's direction, is comprised of TPO economists and policy specialists who support all facets of implementing the Lab-to-Market (L2M) initiative, a part of the President's Management Agenda. A critical component of this initiative is economic research conducted and/or overseen by TPO economists that estimates the return on and impact of NIST (and other federal laboratory) investments in R&D projects and technology transfer activities. The primary objective of this research is to provide policy makers and stakeholders with an understanding of the importance and economic value of federal laboratory research activities.
by kathleen.mctigue [at] nist.gov (Kathleen McTigue) -  Economic Specialist
Technology Partnerships Office
National Institute of Standards and Technology