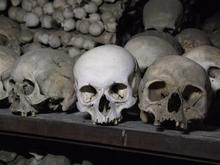 The Organization of Scientific Area Committees for Forensic Science (OSAC) is excited to announce two Disaster Victim Identification (DVI) documents have been added to the OSAC Registry.  The OSAC Registry serves as a trusted repository of high-quality, science-based standards and guidelines for the practice of forensic science.  To be placed on the Registry, a standard or guideline must have been developed using a consensus-based process and passed the OSAC technical merit review process by forensic practitioners, academic researchers, statisticians, and measurement scientists.
The two latest OSAC Registry Approved documents include:

ANSI/ASB Best Practice Recommendation 007, Postmortem Impression Submission Strategy for Comprehensive Searches of Essential Automated Fingerprint Identification System Databases, First Edition, 2018 (effective September 5, 2019).  While a number of factors affect the successful search of a fingerprint through an automated fingerprint system, one the most important factors is ensuring the fingerprint is searched through appropriate antemortem fingerprint databases. This document provides guidance to medical examiners, coroners, and investigators regarding the submission of recorded postmortem impressions for comprehensive searches of essential automated fingerprint identification system databases.

ANSI/ASB Best Practice Recommendation 010, Forensic Anthropology in Disaster Victim Identification: Best Practice Recommendations for the Medicolegal Authority, First Edition, 2018 (effective September 5, 2019). Anthropological methods, techniques and principles are typically employed in five primary capacities: 1) during the Preparedness phase of a DVI operation, 2) the Search and Recovery and preservation of remains from a mass fatality incident, 3) at the Triage Station during the initial sorting of material gathered from the field and determination of what human tissue enters the morgue, 4) at the Anthropology Station collecting quality postmortem data from each morgue sample, and 5) as a member of the ID Reconciliation Team, focused on ensuring valid and reliable positive identifications from human tissues. This document provides guidelines and best practices relevant to the role of forensic anthropology in a DVI operation, with the primary focus on the Triage and Anthropology Stations (capacity 3 and 4, respectively). 
These are the first documents from OSAC's Disaster Victim Identification Subcommittee to be placed on the OSAC Registry and now bring the total number of Registry documents to 19. In addition to facilitating the development of high-quality standards, OSAC also encourages the widespread implementation of the documents listed on the Registry throughout the forensic science community.