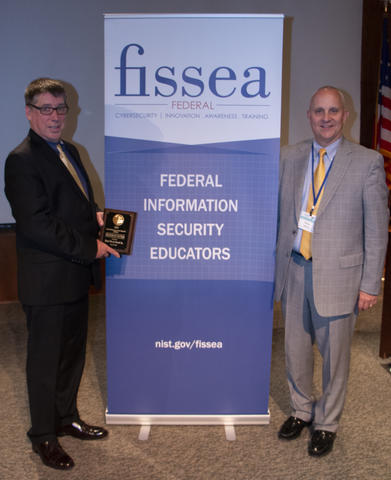 Congratulations to Mr. Earl Fred Bisel, Jr, Naval Information Warfare Center – Atlantic, for being awarded the Federal Information Security Educators (FISSEA) Educator of the Year! Fred Bisel was recognized as the FISSEA Educator of the Year at this year's Annual FISSEA Conference. The conference kicked off June 27, 2019 in Gaithersburg, MD with a focus on "Innovations in Cybersecurity Awareness and Training: A 360 Degree Perspective."
Prior to the conference each year, FISSEA, an organization run by and for information security professionals to assist federal agencies in strengthening their employee security training and awareness programs, solicits nominations for the FISSEA Educator of the Year Award. This award was established to recognize and honor a contemporary who is making special efforts to create, build, manage, or inspire an information systems security awareness, training, or education program.
Fred is recognized for his significant contributions to the Naval Information Warfare Center (NIWC) Atlantic's Cyber Education and Certification Readiness Facility (CERF). CERF is a collaborative education environment created to bolster NIWC Atlantic's success in mastering the cyberspace domain. In approximately one years' time, Fred led a team that pulled together the state-of-the-art training facility, including staffing training instructors and overseeing the development of course curriculum.  He combines practicality with ingenuity to ensure the CERF provides fast-paced, practical, in-house training on networks and operating systems for job enhancement and to prepare NIWC Atlantic employees for various information technology (IT) certification exams.