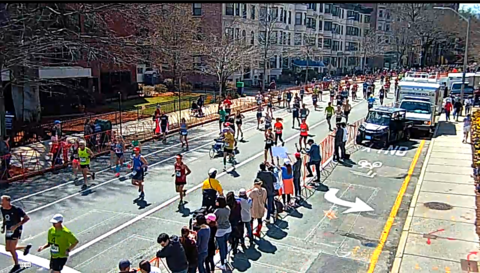 First responders need to respond to incidents, communicate, and perform operations even when networks are out of service due to malicious attacks, natural disasters, and lack of available coverage. This is the problem that PSCR award recipient, Spectronn, is hoping to solve. Because Public Safety has to respond in emergencies when their primary network might not be available, it is imperative that they have the ability to connect seamlessly and transparently through alternative network paths even if major networks become unavailable. 
Keeping police and other first responders connected to the applications and services they depend on is of paramount concern. To this end, Spectronn has a plan. "We have developed the technology so that officers can simply connect to our box (called, SiFi-200) over WiFi or LTE and can make calls to each other using our mobile App – including video conference calls, even if the box is not connected to any backhaul network or the Internet," says the Principal Investigator for this project, R. Chandramouli (Mouli). Mouli works with Brookline PD to test the product and study its utility within a real-life implementation.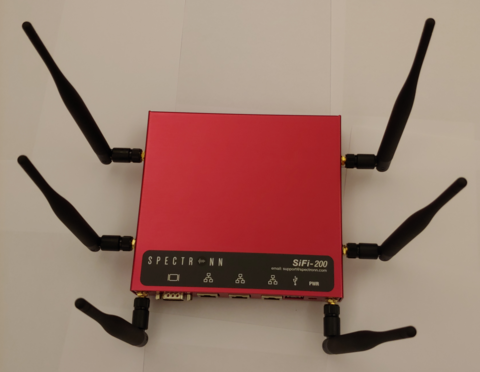 PSCR funded Spectronn's technology, a hyper-converged, cognitive "mobile edge-computing-in-a-box" system. Mobile edge computing is a critical component of emerging 5G networks. Spectronn's system comes with two cellular backhauls, a WiFi hotspot, local storage, and computing capability. Even if major networks become unavailable due to failure, this multi-networking technology allows Public Safety to resiliently connect to a remote data center or cloud. The edge computing capability supports local access to mission-critical services if there is a complete loss of connectivity with their primary network.
With Spectronn's technology, when there are multiple networks available, a mobile device will connect to the stronger, more available network that's best equipped for the application being used. As availability and strength change, however, so does the selected network. Spectronn's technology eliminates that moment of disruption for first responders with session persistent seamless connection offload across different networks. 
"Why not exploit all available networks such as LTE, WiFi, or satellite - even if they have different capabilities?" Mouli explains that if all networks are functioning properly, devices could connect to all these networks simultaneously - something current mobile phones cannot do. The primary goal of his project is to exploit multiple wireless networks available in one location and time. Mouli is putting together a heterogeneous network system that would aggregate different wireless bandwidths and latencies for phone calls, texting, video streaming, and more. For Brookline (a Boston suburb), this would ensure little to no network disruption as signal availability and quality changes. During last month's Boston Marathon, an event which attracts approximately 30,000 athletes and up to 500,000 onlookers, Spectronn deployed their technology in a real-life situation for the first time.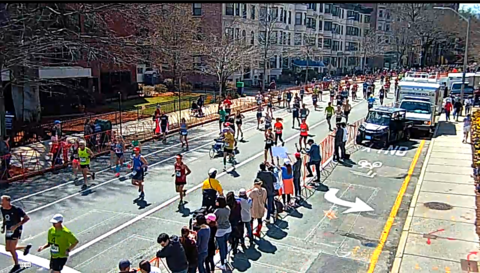 Video is a specific area of interest during the marathon. There are video cameras in Brookline connected to Brookline PD through a microwave backhaul link, but certain locations make it challenging to get coverage without a substantial financial investment in more microwaves.
"Data connection reliability is essential for first responders," Mouli says, "but wireless bandwidth cost, especially for video streaming, can be high for a public safety organization," making adoption challenging to say the least. Lower cost is a benefit of connecting to mobile edge computing servers that can provide video storage/streaming and other services locally over WiFi. Mouli proposes that these edge computing devices could be installed on street-side lamp posts or police vehicles and inter-networked in the Brookline scenario. As for public safety organizations not near the WiFi hot spot connected to a camera, they would be able to access the live video streams from secure, distributed edge cloud servers inter-connected by WiFi mesh.
The Boston Marathon is known as one of - if not THE - premier running events in the world. It is a densely packed, widely viewed sporting event. And if anyone knows the importance of reliable first responder communications during an event of this magnitude, it might be Scott Wilder of Brookline PD. He worked closely with the command control center during the marathon and has been the unit's Technology Director for the better part of three decades.  
"This project resonated with me because it reminded me of a technology we had in place in the past," says Wilder. "In 2008, we built out a public-private partnership for WiFi in 4.9 GHz Public Safety radio spectrum. It was a mesh network throughout the town. To me, having our own private mesh network had a lot of benefits." Mesh networks are comprised of devices which connect in hot-spot fashion, and remain networked when the Internet is inaccessible. The 4.9 GHz mesh system that Brookline PD was using in 2013 when the Boston Marathon suffered a bombing attack. "All the cells went down," he says, "anyone relying on a typical carrier was out of the game but we stayed operational."
But one day, the small internet service provider supporting the network suddenly ceased operations--the owner moved on to pursue other commercial ventures. "There was no replacement," Wilder says. "We couldn't support it (375 outside networked-nodes hanging from poles) – even with additional resources. To me, Mouli's project is replacing that 4.9 network with cameras and applications." Wilder has high hopes for how Spectronn's hardware and software will take shape and says he believes the project is important enough to go through the trials with Mouli.
"I haven't heard of anybody who's doing a project like this…other [agencies] want to wait until something has been done and proven, but by that time there's another 'new thing' – and you're already behind." Wilder credits his patience - and openness - to his unique experience. He started at Brookline PD as a patrolman in the mid-1980s, but transitioned into the Technology Director role in the mid-1990s. "We are always looking for the next thing…  When you're on the job and you understand technology, you tend to have more patience. We understand the growing pains and we learn from the growing pains."
Both parties speak highly of the partnership. "None of this would have been possible without Scott Wilder," says Mouli. Although Spectronn faced some on-the-ground challenges leading up to the marathon, the pair worked through it with the resources available. Together they hung the SiFi-200 box along the race route; each box can support up to five cameras. Mouli had this to say about the Spectronn implementation (sent via email 11 days later, on April 26):

From midnight of April 14th to midnight of April 15th 6357 Mbytes of uninterrupted live video stream was transferred to the Brookline PD's command center using our cognitive mobile edge computing router embedded with a FirstNet SIM card (provided by the Brookline PD). BTW, the router is still sending live video to the Brookline PD at the same location.
For Spectronn, the Boston Marathon has been the first big opportunity to test the product funded by PSCR. "This is a real implementation that's not in an enclosed environment," he says. "We're setting up tools to measure various parameters… it would be great if [Brookline PD] found it useful, but we are also going to take all the measurements and logs to see what worked and what could be improved."
Mouli will present a research update on Spectronn's project with Brookline PD this July at the 2019 Public Safety Broadband Stakeholder Meeting.