Standards Beget Reliable Devices
The mobile phones we use – whether iPhone or Android – become available to us after a series of tests. Technology laboratories implement established standards and methods which determine whether our phones will be functional and reliable foremost; testing also tells us how quickly and efficiently our phones will perform. Though invisible to most consumers, the tasks we expect our phones to complete (send a text, take a photo, download a video, make a call, open an internet browser) depend on test equipment and set standards to be of any value to us at all. If we couldn't rely on our smartphones for these basic needs, we would switch brands, switch carriers, or altogether swap out our "go-to" device for a product that actually does what we need it to when we need it to.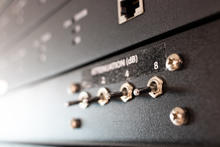 The world needs test equipment manufacturers to create reliable communications devices for our day-to-day needs. But not all the world's devices and their many features are tested against set standards for functionality and reliability under extreme circumstances. Public safety personnel—firefighters, police, and EMS—need push-to-talk applications to make regular smartphone use under strenuous conditions a reality; currently, there is no widely-executed solution for testing this task for mobile broadband devices because the equipment to do so does not exist, or is being developed at a prolonged pace.
First Responders Need Communications Devices They Can Trust
Voice communication is still the #1 way first responders communicate. While push-to-talk technology is available for first responders at the application level, this feature has not been certified by testing entities and standards bodies at levels of high confidence. It comes as no surprise then that in most disaster scenarios – even in 2019 – the "go-to" device for first responders is the land mobile radio (LMR – or "walkie talkie" to the rest of us). (It's worth noting that while even some apps exist for regular civilians to enable this walkie talkie capability during emergency situations, these apps are not certified reliable.) When crisis strikes, the commercial phones we know and love may offer little value to firefighters, police, and EMS.
Because of this, NIST PSCR launched the Mission Critical Voice Test Equipment funding opportunity through the Public Safety Innovation Accelerator Program (PSIAP). This opportunity is open to test equipment manufacturers of all sizes; the budgeted federal awarded program amount is up to $12M. The Mission Critical Voice Test Equipment grant from NIST PSCR seeks to support R&D around the creation of a simulator system which will enable the necessary testing of Mission Critical Push-to-Talk (MCPTT) technology. The simulator will be expected to support standardized MCPTT test cases, and award recipients will be encouraged to write public safety test cases as part of their final deliverables. Additional research goals may include the testing of Mission Critical Data and Mission Critical Video. 
Besides providing first responders with mobile features they can trust, this research will be influential in laying the foundations of 5G for Public Safety; IP-based businesses are encouraged to apply. Ripe for R&D, the test equipment market for Public Safety is currently untapped. Award recipients will be well-positioned to become market leaders with an extremely collaborative user group. In addition to financial incentives, awardees will get to add the prestigious NIST name to their list of collaborators. 
You Can Make a Difference in Public Safety R&D
America's first responders need communications devices they can trust, especially in emergencies – when mere moments can mean life or death. Help make Mission Critical Voice Test Equipment commercially viable for Public Safety, influence the foundation of Public Safety 5G, and advance your company's competitive position in the process. Register for the webinar now to learn more about NIST PSCR's award.