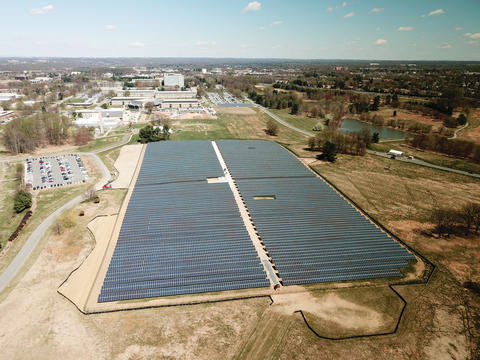 GAITHERSBURG, Md.—The U.S. Department of Commerce's National Institute of Standards and Technology (NIST) held a ribbon-cutting today on its newest and largest solar energy array. The nearly 15,000 panels cover the equivalent of 11 football fields and are expected to produce more than 8 million kilowatt-hours of energy in the first year, accounting for about 4 percent of the campus's energy consumption.
The array's production is expected to prevent the release of an estimated 6,200 metric tons of carbon emissions annually, the greenhouse gas equivalent of removing about 1,251 passenger vehicles from the road, based on estimates using a U.S. Environmental Protection Agency formula. The array is predicted to save NIST a minimum of $3.5 million in its first 20 years of operation.
"The new solar field shows how NIST and our partners in government and commercial industry are leading the way," said Under Secretary of Commerce for Standards and Technology and NIST Director Walter G. Copan. "With this project, we get it all: cleaner air, lower costs and stronger support for private industry."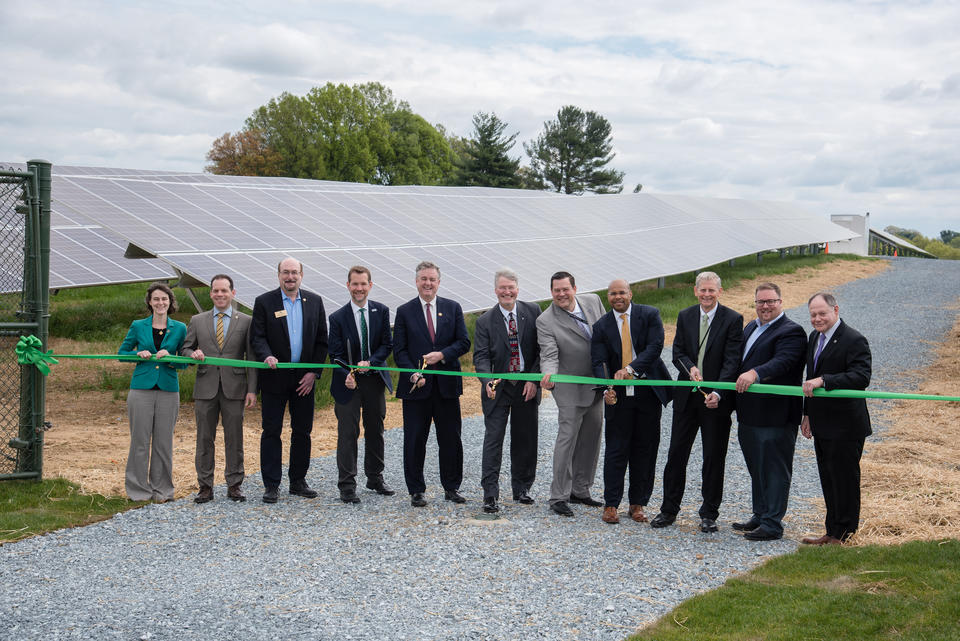 The solar array was built by Constellation, a private-sector energy supplier, under a Department of Energy competitive contract program that allows federal agencies to procure energy-saving projects with no upfront capital costs or special congressional appropriations. An Exelon company, Constellation funded the project and will own and operate the solar array.
The company will assume the cost to maintain the array and to repair and replace components over the 20-year contract period. NIST will buy the solar-generated electricity from Constellation during this period, at a rate about 30 percent lower than the agency's normal cost for electricity. When the contract term expires, NIST will then purchase the solar array at the fair-market value and operate it for the remainder of its useful life, projected to be about 10 additional years.
"This project enables NIST to support the continued adoption of distributed renewable energy at its campus and beneficially affect the environment," said Brendon Quinlivan, executive director of distributed energy origination for Constellation. "We're proud to deliver these results in the federal sector and help NIST achieve its sustainability goals."
NIST's Gaithersburg campus has five additional solar arrays, which have been producing 0.5 percent of its electricity. Fifty trees had to be cut down for the new array but are being replaced by 150 new trees in another part of the 234-hectare (578-acre) campus.
NIST promotes U.S. innovation and industrial competitiveness by advancing measurement science, standards and technology in ways that enhance economic security and improve our quality of life. NIST is a nonregulatory agency of the U.S. Department of Commerce. To learn more about NIST, visit www.nist.gov.