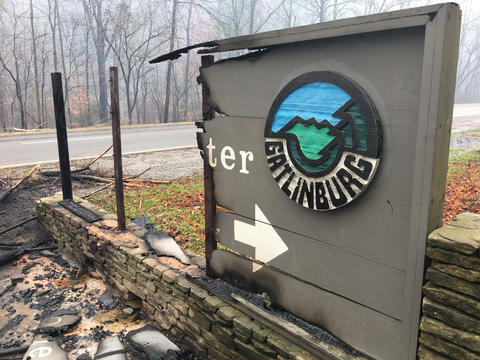 GAITHERSBURG, Md.—The U.S. Department of Commerce's National Institute of Standards and Technology (NIST) is seeking help from residents of Sevier County, Tennessee, who were affected by the November 2016 Chimney Tops 2 Fire. These residents are being asked to participate in a survey that will help researchers understand the public's experiences with and responses to the emergency alerts and warnings issued during the fire. The goal of the survey is to identify the main factors that influenced people to evacuate. 
This survey is part of a NIST study that will lead to recommendations for improvements to emergency messages, technology, training and education, and other emergency procedures, and to develop evacuation models that can be used for wildfire planning. Ultimately, the study may lead to recommendations for improving current standards and practices, so that communities across the U.S. can become more resilient to natural hazards. 
"Studying how our emergency communications systems performed and how residents responded is extremely important," said Erica Kuligowski, a NIST research social scientist. "Through this type of research, we have been able to develop guidance for those who issue emergency messages on how to create and disseminate evacuation warnings that meet the needs of people threatened by a disaster."
NIST has a long history of studying disaster events and developing better ways to protect communities from the devastating effects of natural disasters. Prior to the 2016 Chimney Tops 2 fire, NIST had studied impacts from hurricanes (Katrina in 2005 and Matthew in 2016), wildfires (Waldo Canyon in 2012), tornadoes (Joplin, Missouri, in 2011), and earthquakes (Chile in 2010). 
The survey is being conducted on behalf of NIST by survey research firm Fors Marsh Group. In October 2018, residents within fire impact areas and evacuation zones received a letter inviting them to participate in an online survey about their experiences in the Chimney Tops 2 Fire. 
"One of the challenges we've faced is that some people may have relocated since the fire, or some of the affected areas included vacation homes," said Kuligowski. "We are redoubling our efforts with a new round of phone calls, postcards, social media postings and more to reach out to people who were living in the affected areas during the 2016 wildfire. We're really hoping the community can help us collect this vital information."
Through these communications, residents will receive a weblink to the survey sign-in page at www.NISTfiresurvey.com. To launch the official NIST survey, residents will be asked either for a "personal code" received via the outreach methods mentioned above, or to enter their home address at the time of the fire. The survey takes about 20 minutes to complete. Potential participants can call the Fors Marsh Group at 877-891-2465 with questions, or to take the survey by phone.
"We really appreciate all of the people who have taken the time to complete the survey so far, but we still need more data to understand the overall community's response and to make sound recommendations for improvements," said Kuligowski. 
In January of 2019, Kuligowski and her colleagues noticed local media referring to an online survey claiming to be sponsored by "NIST," but which was hosted on a website not affiliated with the National Institute of Standards and Technology.
"We're concerned this other survey, from unofficial sources, may create confusion among Sevier County residents," said Kuligowski. "We want to assure people that it is not affiliated with our important research, whose goal is to improve safety for people living in wildfire-prone regions."
The unofficial survey has since been removed from the web. County residents who completed a survey that did not require a personal code likely completed the unofficial survey and are encouraged to visit the Chimney Tops 2 Fire study webpage to complete the official NIST survey.
Information about other NIST studies can be found on the NIST Disaster and Failure Studies webpage. 
NIST promotes U.S. innovation and industrial competitiveness by advancing measurement science, standards and technology in ways that enhance economic security and improve our quality of life. NIST is a nonregulatory agency of the U.S. Department of Commerce. To learn more about NIST, visit www.nist.gov.
###