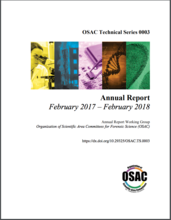 The Organization of Scientific Area Committees (OSAC) for Forensic Science has released its 2018 Annual Report.
OSAC continues to make steady progress toward its goal of achieving technically sound, consensus-based standards and guidelines. OSAC committees are working on hundreds of discipline-specific and interdisciplinary forensic science standards projects, and have posted hundreds of discipline-specific baseline documents to the OSAC website. OSAC also has continued partnership with SDOs including the Academy Standards Board (ASB), American Dental Association (ADA), ASTM International, International Organization for Standardization (ISO), and National Fire Protection Association (NFPA).
Within the last year, the Forensics Science Standards Board (FSSB) has continued to focus on OSAC strategic efforts, and in particular has implemented numerous program changes based on feedback from OSAC members and stakeholders.
Learn more about the ways OSAC is working to transform the field of forensic science.