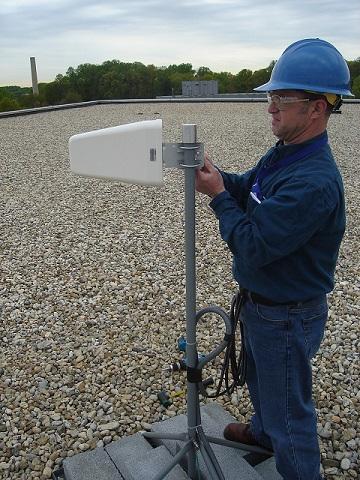 Alan Band, an electrical engineer at NIST for more than 25 years who won the Institute's Colleagues' Choice award and was celebrated for his ability to mentor both scientists and technicians, died on April 10 after a long illness. He was 59. Alan began his career at NIST in 1991 and worked at NIST's Center for Nanoscale Science and Technology since its inception in 2007, where colleagues recalled his dedication and willingness to solve electronics problems, no matter how challenging.
"Alan was absolutely one of the most friendly, helpful and knowledgeable people I have met at NIST," said Kartik Srinivasan, a project leader in CNST's Nanofabrication Research Group.
Elise Pilat, an electrical engineer at CNST's NanoFab Operations Group, met Alan soon after she started her career at NIST in 2013. "We became quick friends as we 'geeked out' about electronics and all things engineering," she recalled. Despite Alan working for a different group and having a heavy work load, "he selflessly tried to teach me everything he knew about engineering and it has been the joy of my career to learn it," she added.
For Glenn Holland, a broken turbo pump led him to Alan. The people in Holland's NIST laboratory advised him to contact Alan "because he could fix anything." While working to fix the pump, Alan suggested ways Holland could improve his project. A few years later, when Holland was looking for a new job, Alan helped him find his way to CNST's Electron Physics Group. "It was my pleasure to share an office with him for the last nine years," said Holland.
For three years, Veronika Szalai, a project leader in CNST's Nanoscale Imaging and Spectroscopy Group, worked closely with Alan to build a magnetic resonance spectrometer for biomacromolecules, an endeavor she had never before attempted. The supporting information describing the instrument, published in a peer-reviewed journal with Alan as first author, "is a lasting record of his amazing contributions to deliver on this complex and challenging project," said Szalai. Alan had often told Szalai that her project ideally needed an entire team of engineers, but somehow Alan managed to be that entire team.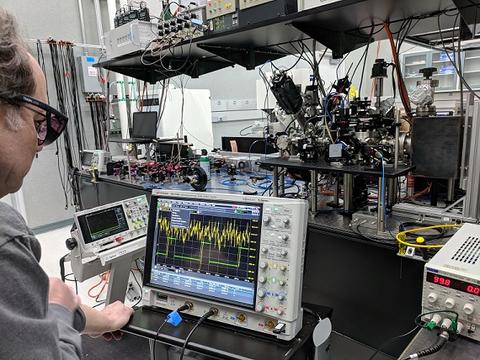 "His energy, his persistence, and his belief that any instrumentation problem – no matter how complex – can be solved with a systematic approach and confidence exemplify Alan's way," said Szalai.  "He changed my research trajectory.  And he changed me: He showed me not only how to do it but helped me believe I could."
Alan supervised and mentored electronics technician David Rutter for more than 12 years. "He afforded me the opportunity to learn through the projects that we worked on together no matter how complicated," said Rutter. "Alan was always willing to consider an alternative view or differing opinion on what was being worked on to make sure of the best design possible for the CNST research staff," he added. "He will be sorely missed."
For Joseph Stroscio, a project leader and NIST fellow in the CNST's Electronics Physics Group, Alan's stand-out contribution was the electronics instrumentation that he designed and built for the CNST's scanning tunneling microscope program. "The instrumentation was largely responsible for the high-quality data that has helped the program achieve world renown," he said.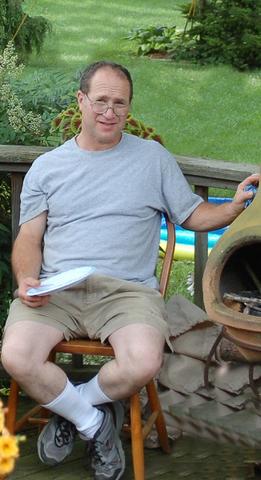 Given the accolades, it was perhaps no surprise that Band won the 2011 NIST Colleagues' Choice award "for enthusiastic dedication to his work, original ideas for solving difficult measurement problems and unending desire to help colleagues in need." He also received the Sigma Xi Certificate of Recognition for "Outstanding service in support of NIST research scientists" in 2009 and the NIST Bronze Medal award in 2003 in recognition of his contribution to the Electron Physics Group's scientific programs as well as collaborative projects with other NIST laboratories. 
Before joining NIST in 1991, Alan worked at the Los Alamos National Laboratory where he developed and maintained electronics for monitoring the beam position in the meson physics facility. At the Evans and Sutherland Computer Corp. in Salt Lake City, Alan designed and developed bit-slice processor boards for high-performance graphics workstations. He also held several engineering positions at Becton Dickinson Automated Immunochemistry in Salt Lake City.
In all, Alan had over 30 years of experience in biomedical and scientific instrumentation, holding positions in government and private industry as a design engineer, engineering technician and field service technician.
Alan earned his bachelor's degree from the University of Utah and an associates' degree in biomedical instrumentation technology from the Springfield Technical Community College in Massachusetts. 
He leaves behind his wife of 31 years, Jeanne Dietz-Band, and three sons. Donations may be made in Alan's name to the American Cancer Society.