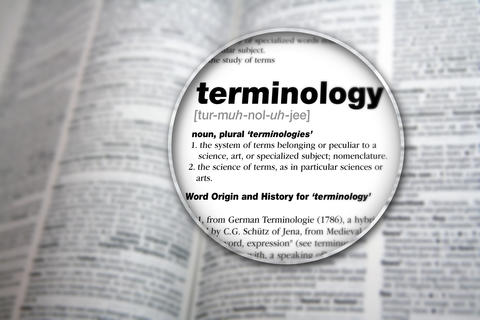 The forensic sciences encompass dozens of disciplines, each with its own history and vocabulary. As a result, a word might mean one thing to forensic anthropologists, for example, but something else to forensic document examiners. To help facilitate clear communication across the many disciplines, the Organization of Scientific Area Committees for Forensic Science (OSAC) has created a Lexicon of Forensic Science Terminology, which can be accessed from the OSAC website.
The OSAC Lexicon Initiative started in 2016, when OSAC's Forensic Science Standards Board (FSSB) tasked all OSAC units with identifying and collecting existing terminology related to their forensic science discipline. The end result is a consolidated, searchable lexicon organized by discipline. The terms and definitions come from the published literature, including documentary standards, specialized dictionaries, Scientific Working Group (SWG) documents, books, journal articles, and technical reports. In addition, the OSAC subcommittees generated or modified many definitions.
Steve Johnson, FSSB Chair, noted that, "Our goal was to get the OSAC work product out for public consumption, but this is a living document. OSAC plans to add new terms, remove terms, consolidate duplicate entries, verify sources of non-verified terms, and reach consensus on more OSAC Preferred Terms." 
Going forward, OSAC units should reference the current OSAC Lexicon for definitions when drafting or revising standards, and they should avoid creating new definitions unless substantive changes to the existing lexicon are warranted. 
Other terminology initiatives within OSAC include developing discipline-specific terminology standards designed for publication by Standards Developing Organizations (SDOs).  Two of these terminology standards are already available from the American Academy of Forensic Science Academy Standards Board (ASB):  
ASB Technical Report 025, Crime Scene/Death Investigation – Dogs and Sensors – Terms and Definitions, First Edition, 2017.This document, which provides standard terms and definitions used in the detection dog community, promotes consistency across jurisdictions and relieves the judicial system of conflicting terms and definitions.
ASB Technical Report 033, Terms and Definitions in Bloodstain Pattern Analysis, First Edition, 2017. This document presents a list of recommended terms and definitions for bloodstain pattern analysis, including bloodstain pattern types and related concepts.
In addition, ASTM International is developing a draft terminology standard produced by the OSAC Fire Debris & Explosive Subcommittee. WK56998 Terminology Relating to the Examination of Explosives, has been submitted to ASTM E30.01 Criminalistics Subcommittee and is in balloting for approval.
Other existing terminology standards in forensic science include ASTM E1732-17 Standard Terminology Relating to Forensic Science, which the ASTM E30 Committee on Forensic Science recently determined will become the master terminology for all ASTM E30 documents (of which there are more than 50).  ASTM's E30.12 Digital and Multimedia Evidence Subcommittee also has a published terminology standard, E2916-13 Standard Terminology for Digital and Multimedia Evidence Examination.
OSAC will continue to refine the Lexicon and to draft terminology standards for submission to SDOs.
The release of this lexicon database for forensic sciences marks a milestone in the effort to help the many disciplines speak the same language.