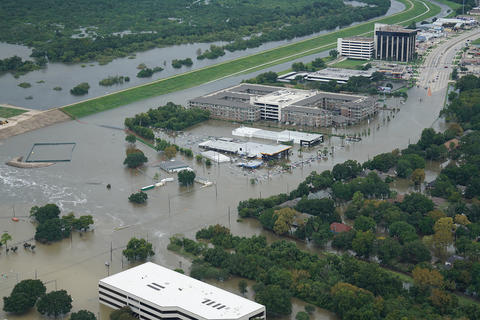 GAITHERSBURG, Md.—The Hollings Manufacturing Extension Partnership (MEP), a program of the U.S. Commerce Department's National Institute of Standards and Technology (NIST), has awarded $3 million in funding to help manufacturers begin the long road to recovery from Hurricane Harvey.
The funding will allow two of the MEP National Network ™ Centers, the Texas Manufacturing Assistance Center (TMAC) and the Manufacturing Extension Partnership of Louisiana (MEPOL), to identify and provide recovery support to small and medium-sized manufacturers who are suffering from physical damage to their facilities, labor shortages, and other disruptions caused by the storm and flooding.
"President Trump has made clear that the recovery of the people of Texas and all those affected by the recent hurricanes is a top priority for every department and agency in his administration," said Secretary of Commerce Wilbur Ross. "By coordinating with local leaders, programs such as these provide much-needed support to communities and businesses after a disaster."
Smaller manufacturers are often important suppliers in vital national supply chains. Helping them recover quickly will limit the repercussions felt up and down the supply chain and across the country. The MEP centers will identify obstacles keeping affected manufacturers from returning to normal operations and help them develop plans to recover. TMAC and MEPOL will also connect the businesses with appropriate federal, state and local resources that can further assist them in their business recovery efforts. 
Longer term, the centers will work with NIST to develop the best way to disseminate disaster preparedness information and best practices for what manufacturers should do before, during and after a disaster. This information will also be used by NIST and the MEP National Network to develop strategies that support recovery planning and risk mitigation for manufacturers across the United States. 
 
"Smaller companies in supply chains do not have much time to recover from disasters such as this before they start to lose customers," said Carroll Thomas, NIST MEP director. "We're pleased to be able to help our manufacturing community with timely initial support so desperately needed right after a major disaster like Hurricane Harvey."
Since 1988, MEP has worked to strengthen U.S. manufacturing. As a public-private partnership, MEP delivers a high return on investment to taxpayers. For every dollar of federal investment, the MEP national network generates $17.9 in new sales growth for manufacturers and $27 in new client investment. This translates into $2.3 billion in new sales annually. And, for every $1,501 of federal investment, MEP creates or retains one manufacturing job.
As a non-regulatory agency of the Commerce Department, NIST promotes U.S. innovation and industrial competitiveness by advancing measurement science, standards and technology in ways that enhance economic security and improve our quality of life. To learn more about NIST, visit www.nist.gov.