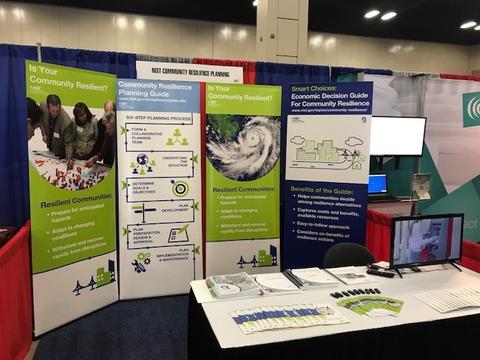 City managers, public works department directors, and county administrators learned about NIST's Community Resilience Planning Guide for Buildings and Infrastructure Systems and the related Economic Decision Guide at the International City/County Managers Association (ICMA) annual conference in San Antonio October 22-24, 2017.
Several dozen city, county, and town managers who stopped by the NIST community resilience exhibit at the ICMA event were briefed on how the Guides can help them to plan for improved resilience in the face of potential hazardous events and shared their resilience challenges. NIST also took part in the ICMA Sustainable Communities Advisory Committee meeting.
NIST is reaching out to community leaders across the country, in part by participating in their key national organizations' annual conferences, including: U.S Conference of Mayors, National Association of Counties, and the National League of Cities. NIST is also  represented at some of those organizations' committee and smaller sessions as well as at major conferences sponsored by the Resilient Virginia and the International Association of Emergency Managers. More information about the ICMA and the conference can be found at https://icma.org/icma-annual-conference.