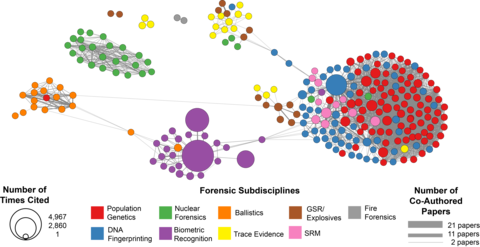 The 2016 Forensics@NIST conference was held on November 8th and 9th, 2016 on the NIST Gaithersburg Campus. Presentations and posters included the latest NIST research on ballistic toolmarks, fingerprints, digital forensics, trace evidence, DNA profiling, and more.
Staff from NIST's Information Services Office (ISO) presented a poster detailing the impact of NIST's forensic science peer-reviewed journal literature through citation analysis and network visualizations. ISO's study of NIST forensics papers published from 1978 to 2016 identified the journals, institutions, and countries that cite NIST forensics articles most frequently, and also examined NIST's extramural publication collaborations in forensics.
Findings concluded that the most collaborations occur in population genetics (34%) and DNA fingerprinting (22%). Additionally, NIST forensic publications have been cited by authors from 128 different countries.