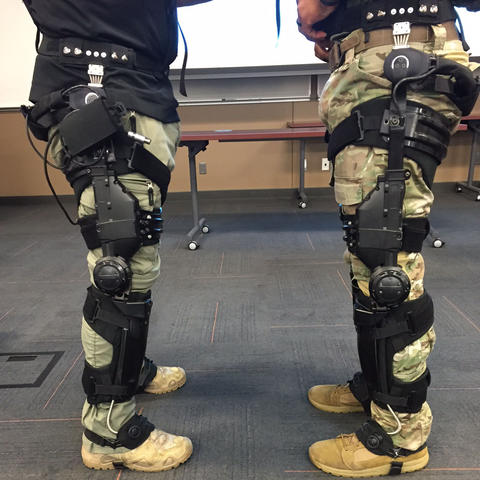 Robotic exoskeletons are a common sight in science fiction movies—think Ironman, or the power loader that Ellen Ripley used to wrestle her nemesis in Aliens—but wearable robotics, as they're also called, are quickly moving off-screen and into the real world. Today they're used in factories, warehouses, and other workplaces, and new designs for soldiers in combat and patients with spinal injuries aren't far behind.
Despite rapid progress in the marketplace, however, there is only an incomplete patchwork of standards to govern the safety and performance of wearable robotics.
This is a problem because, although exoskeletons have the potential to radically increase our strength and mobility, said Bill Billotte, leader of NIST's National Security Standards Program, "before you climb into one, you want to make sure it's safe."
NIST's mission is to promote standards that strengthen U.S. industrial innovation. With that goal and the safety of users in mind, on August 23, 2016, NIST hosted a meeting of federal agencies to discuss the current state of standards development within the wearable robotics space and to identify gaps in standards for safety, performance, interoperability, ergonomics, and cybersecurity.
"Consumers will want to know that all robotic exoskeletons were put through a series of standard tests," Billotte said. "We're working to identify the important metrics and develop methods for measuring them."
Among other things, attendees discussed the need for new test methods that, for safety reasons, don't involve humans. One possible solution: crash test dummies for wearable robotics. Such test dummies could be used to measure the forces applied on a user, and to study the risks of imbalance and falls, overextended joints, skin abrasions, and pressure ulcers.
In addressing the gaps in standards for wearable robotics, NIST will bring to bear extensive experience in robotics for industrial and first responder applications, industrial batteries and power supplies, materials and electronic engineering, and cybersecurity systems (you wouldn't want to be in an exoskeleton if it gets hacked). And of course, its long history of developing test methods and standards.
"We're working to foster an innovative and successful sector," Billotte said. "These are complex issues where NIST can apply a lot of expertise."