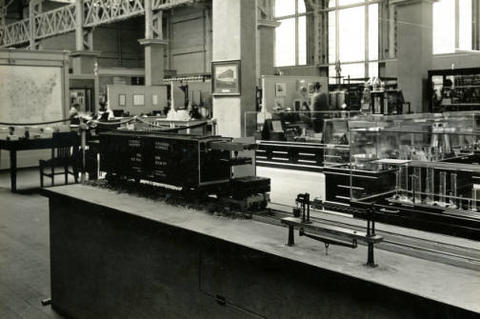 The World's Fair exhibitions are some of the most famous events in modern history, from the Exposition Universelle of 1889, whose front gate was the temporary structure now known as the Eiffel Tower, to the 1893 World's Columbian Exposition held in Chicago, made famous both for its French neoclassical architecture, the original ferris wheel, and the H.H. Holmes murders.
The Panama-Pacific International Exposition was a World's Fair that took place between February 20, 1915 and December 4, 1915 in the Marina District of San Francisco, CA. The National Bureau of Standards (NBS) and the Smithsonian Institution created extensive exhibits for the Exposition. Included in the exhibits were replica weights and measures of various sizes and a miniature standard test railway car. The NIST Digital Archives' Panama-Pacific International Exposition Collection's photographs document the interior of the exhibit hall with NBS displays and exhibits.
Also among the Exposition's exhibits were the C.P. Huntington, which was the Southern Pacific Railroad's first steam locomotive; a telephone line that was linked to New York City so that people there could hear the Pacific Ocean next to the Exposition; and the Liberty Bell, which traveled on a nationwide tour by rail from Philadelphia to be displayed.
See photos documenting the NBS exhibit at the Panama-Pacific International Exposition in the NIST Digital Archives.