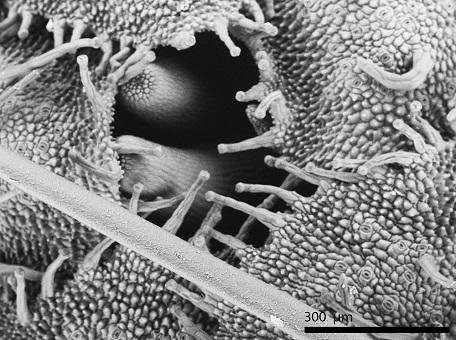 At last weekend's National Maker Faire in Washington, D.C. (http://www.udc.edu/wp/test/national-maker-faire), tech-savvy tinkerers, crafters and educators gave the public the chance to interact with a smorgasbord of 3D printers, homemade robots, Arduino circuit boards and assorted crafts. Among the participants: CNST Electrical Engineer Daron Westly, who wowed children and adults with images taken with a tabletop scanning electron microscope brought from the NanoFab.
In between imaging people's hair — juxtaposed for scale with plant parts or bugs that he or others found at the outdoor festival — Westly explained nanotechnology and the CNST's role in the field.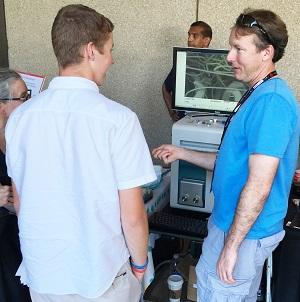 "I also brought a real sample from Vladimir Aksyuk's lab — thanks to Thomas Michels — and put a hair on it for reference to discuss an actual ongoing photonics project," says Westly. "For some reason discussing photonics becomes more interesting to the average person when there is a hair laying right across the device."
Some people who heard Westly talk on Saturday came back the next day to ask follow-up questions; one girl asked him to image an ant crawling on her finger. "For me, the heart of it of it is the joy of sharing," Westly says.
At the festival, Westly also showed off his personal project, a CubeSat built with the help of high school students in Puerto Rico, that is designed to fly on a high-altitude glider. Designed in collaboration with his wife and another scientist, the miniature device is outfitted with detectors to find out if fungal spores can survive in the stratosphere.