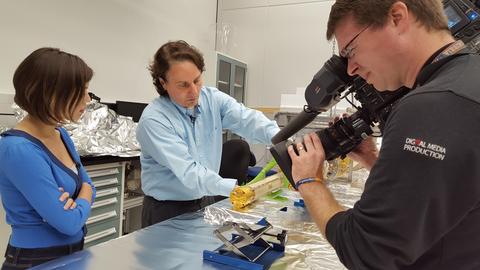 Leniart and her crew, including a student reporter, visited the CNST last year, donning bunny suits to film process engineer Gerard Henein in the clean room explaining how scientists fabricate highly miniaturized electronic circuits, like the chips used in computers. In another video shoot, NIST fellow and CNST project leader Joseph Stroscio demonstrated how a scanning tunneling microscope works and explained how he designed the instrument, likening his role to that of a metal sculptor. A video series for middle school students featuring NIST's Center for Nanoscale Science and Technology (CNST) (https://www.nist.gov/cnst/media) has won a regional Emmy award. Amy Leniart, an educational producer with the Fairfax (Va.) County Public Schools, won the honor in the Technology: Program/Special category on June 25 at the 58th annual competition held by the National Capital Chesapeake Bay Chapter of the National Academy of Television Arts and Sciences (http://www.capitalemmys.tv/).
Other participants in the award-winning series, Innovation Workshop: Nanotechnology, include Lisa Friedersdorf, deputy director of the National Nanotechnology Coordination Office, and Travis Earles, a senior manager at Lockheed Martin.
The video program got its start when the state of Virginia added nanotechnology to its standards of learning for eighth grade students. A science curriculum specialist with Fairfax County Public Schools requested the show. The program provides a media resource for teachers; the YouTube link (https://www.youtube.com/playlist?list=PLGU615q8gq9znhVFriu7OlXkSuFphOEZW) is now part of the lesson plans for all eighth grade science teachers in Fairfax County Public Schools. The programming is also available for free nationally for other school systems to rebroadcast. The first broadcast reached 239 organizations, including 1,749 schools, and over a million viewers.
"I am really pleased that the fine work of Amy and her team has been recognized in this way," says CNST director Robert Celotta. "They really know how to capture the interests of students to explain and convey the excitement of nanotechnology. Their videos will reach well beyond their middle school student target audience," he adds. "The CNST staff and I thoroughly enjoyed working with them on this project."