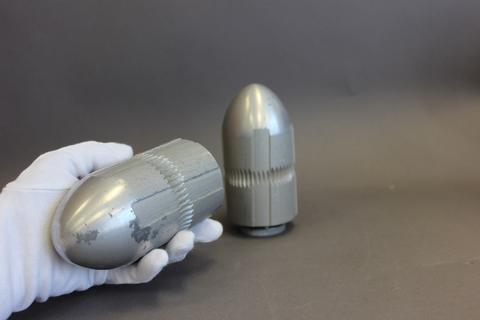 A flash of silver caught my eye. It also brought me up short. What in the world?
I stooped to inspect the object of my curiosity on the lower shelf of a Museum storeroom and had to blink a few times. I couldn't believe what I was seeing – not one, but two huge bullets.
If I had been inspecting the storage space a week beforehand, I might not have known what I was looking at. But chance was on my side. Earlier in the month I visited the curator at the Federal Bureau of Investigation (FBI) hoping to learn more about the National Bureau of Standards (NBS) physicist who was instrumental in setting up the first FBI crime laboratory – Wilmer Souder [1884-1974].  
Souder started the NBS Identification Laboratory sometime in the mid to late 1920s and performed hundreds of typewriting, handwriting, and firearms analyses for cases in which the federal government was a party. Despite the far reaching impact of his work, we have scant archival materials and artifacts related to his research. By studying Souder's suggestions for outfitting and arranging the FBI lab, we can learn more about his Identification Laboratory. So off I went to the FBI, clutching the only image of the NBS Identification Laboratory found to date.
The FBI curator, George Bedish, inspected the photo and helped identify some of the various pieces of equipment in the shot.
"What are those?"  I pointed at two large bullets resting on a table in the far right of the image.
"Probably demonstration models," George said.
When I gave him a blank look, he told me about how firearms experts would use scaled-up models as a tool to describe to a jury how they can match up microscopic striations made on two bullets fired by the same gun. Knowing Souder's interest in crafting effective expert testimony, I could definitely see how he would have a set of these models made. The real surprise was finding them a short time later in storage.
Custom fabricated out of aluminum, each bullet model has two sections. You can twist the halves with respect to each other, until you find a point where all the marks match – or you can interchange the pieces and demonstrate a failure to match. The models would have nicely complemented Souder's photographic evidence in court.  See, for example, the photograph below, which is likely Souder's comparison of a bullet found in a victim's body (B) with one that was test fired from the suspected murder weapon (T).
Some eight or nine decades since they were first made, these models are now reconnected with their history. They are currently the only NIST Museum artifacts that we have related to Souder's early work in forensics. They will join a selection of Souder's notebooks in an upcoming exhibit in June. So keep an eye out, you never know what else we will find in the meantime.