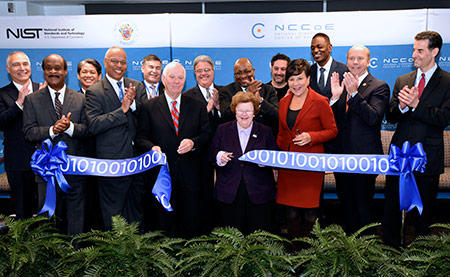 Guest blog post by Willie E. May, Under Secretary of Commerce for Standards and Technology and NIST Director.
Strong cybersecurity starts at the top.
When the CEO or the president of a company truly understands how critical cybersecurity is to their organization's reputation and bottom line, the whole organization gets it. And it takes the whole organization working in concert to give a company, government agency, or non-profit a fighting chance to fend off today's array of cyber threats.  
That's why it was an honor today to share the stage with a dedicated group of private industry and government leaders who truly get cybersecurity. The occasion was the dedication of a new national laboratory facility created to support the nation's digital economy through advanced cybersecurity.
The National Cybersecurity Center of Excellence (NCCoE) in Rockville, Md., is a public-private partnership launched by the Commerce Department's National Institute of Standards and Technology (NIST) in 2013.
After more than two years working in cramped temporary quarters, NCCoE's new facility in Rockville, Md., provides them with five times the laboratory space previously available for collaborative advanced information technology projects.
We're grateful to our partners, the state of Maryland and Montgomery County, Md., for co-funding with NIST the renovation of the facility to the Center's specific needs.
To mark the completion of construction, we invited some of the nation's top government, academic, and industry thought leaders in cybersecurity to a ribbon-cutting celebration and symposium.