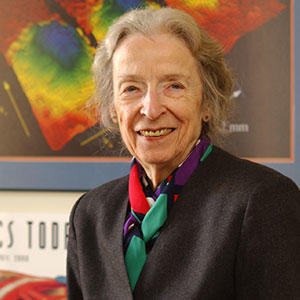 BOULDER, Colo.—Two landmarks merged on Dec. 10, 2015, when the most advanced laboratory building at the National Institute of Standards and Technology (NIST) campus in Boulder, Colo., was renamed after legendary NIST laboratory director Katharine Blodgett Gebbie.
This is the first time a NIST Boulder building has been named for a person. Such honors have been rare in NIST's 114-year history across several locations. The last time a NIST building was named for a staff member was in 1962 at the institution's original headquarters in Washington, D.C.
Gebbie, currently a NIST senior advisor, is uniquely deserving of such an honor. An astrophysicist by training, she has worked for NIST for more than 45 years. Among other positions, she directed two large NIST operating units of several hundred researchers each. Under her leadership, NIST staff won four Nobel Prizes in Physics between 1997 and 2012 as well as two MacArthur Fellowships, aka "genius grants." 
Gebbie also played leadership roles in founding NIST's Summer Undergraduate Research Fellowship (SURF) program and the Joint Quantum Institute, and in advocating for women and minorities in science.
"This renaming is our small way of saying thank you, Katharine, for all you've done for this organization over such a long period of time," said Under Secretary of Commerce for Standards and Technology and NIST Director Willie E. May. "This gesture will serve as a reminder for all of us for years to come who Katharine is and was and the remarkable environment that she fostered within NIST and the laboratories that she led."
The renaming was celebrated at a ceremony where Gebbie was presented with many tributes—a standing ovation from an overflow crowd of about 200 staff and guests; a letter from Colorado Governor John Hickenlooper; and an American flag once flown over the U.S. Capitol in Washington, D.C., provided by local Congressman Jared Polis.
All four NIST Nobel laureates spoke glowingly and told personal anecdotes about Gebbie's quest for excellence, as well as her loyalty and nurturing support that encouraged them to succeed—and remain at NIST throughout their careers.
"Katharine—we revere you, we are in awe of you, and we love you," NIST Fellow and 1997 Nobel laureate William Phillips said. 
A typical Gebbie response to such accolades is: "Of course, all I did was hire and retain talented scientists and support staff." (She was unable to attend the ceremony in person.)
The renamed laboratory building, first dedicated in 2012, tightly controls environmental conditions such as vibration and temperature, as required for cutting-edge research and measurements with world-leading atomic clocks and other advanced technologies. The lab also offers capabilities for micro- and nanofabrication of custom research devices and advanced imaging systems. The building is intended to support NIST research needs for the next 50 years.
Although Gebbie spent most of her career based at NIST's current headquarters in Gaithersburg, Md., she maintained her roots in Boulder. She began her NIST career as a postdoctoral researcher at JILA, NIST's joint institute with the University of Colorado Boulder. Later, as a lab director, she was responsible for substantial programs at NIST Boulder and JILA.
"At JILA I learned there is no substitute for talent. Hire the highest caliber people, provide them the resources they need, and let them run," Gebbie has said. "I never knew any other way of managing."
She has fond memories of the Boulder Airport, where she learned to fly her mother's airplane.
"My favorite trip was to take people over the Continental Divide and down the Colorado River to Lake Powell and the Grand Canyon. Hard to beat that for scenery. And I still have a house in Boulder at 7,000 feet with a view in one direction to the Divide and in the other to Kansas—including, of course, the Boulder Airport."
The Blodgett in Gebbie's name recalls her famous aunt, Katharine Burr Blodgett, who invented low-reflectance, invisible glass that is the prototype for coatings used today on camera lenses. 
As a non-regulatory agency of the Commerce Department, NIST promotes U.S. innovation and industrial competitiveness by advancing measurement science, standards and technology in ways that enhance economic security and improve our quality of life. To learn more about NIST, visit www.nist.gov.
On December 2, 2015, U.S. Senator Ben Cardin paid tribute to Dr. Katharine Blodgett Gebbie and the naming of the building in her honor. Read the Congressional Record transcript of that tribute.