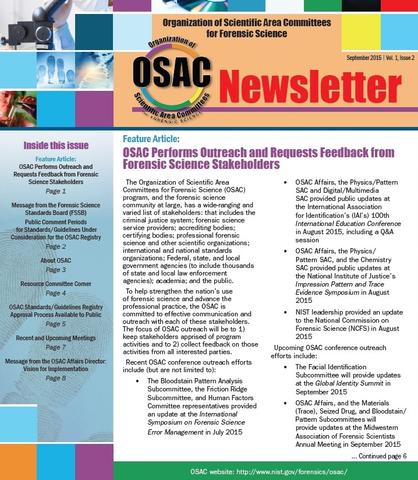 The Organization of Scientific Area Committees for Forensic Science (OSAC) has released its September 2015 monthly newsletter to communicate program status, activities, and opportunities for public input to both internal and external audiences.
Click here to access the September 2015 newsletter.
OSAC Affairs at NIST welcomes any feedback and contributions related to the OSAC and OSAC Newsletter. Please send feedback and inquiries to forensics [at] nist.gov.
If you would like to receive this monthly newsletter and be notified of upcoming public comment periods and other OSAC news, please visit the OSAC homepage at www.nist.gov/forensics/osac and insert your e-mail address in the brown box on the left side of the screen.