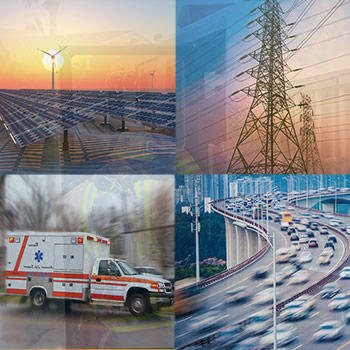 The U.S. Department of Commerce's National Institute of Standards and Technology (NIST) and several partners are launching a new effort to bring together communities with challenges and innovators with the technology to overcome them. The second Global City Teams Challenge (GCTC) was announced at this week's White House Smart Cities Forum.
The new challenge will bring communities and innovators together to encourage collaboration on a range of issues from disaster response to energy management to mass transit improvement. The goal is to help communities and businesses connect to improve resource management and quality of life by using effective networking of computer systems and physical devices, often called the Internet of Things (IoT) or cyber-physical systems. 
NIST is inviting representatives from both industry and local governments to join an initial team-building workshop Nov. 12 and 13, 2015, at NIST's Gaithersburg, Md., campus. Attending the workshop, says NIST's Chris Greer, will help participants find the right partners to solve their specific problems and create "smart cities" that take advantage of what IoT has to offer. 
"The Internet of Things is just emerging, and community leaders may not know all the ways it can help them," says Greer, director of NIST's Smart Grid and Cyber-Physical Systems Program. "Likewise, IoT companies are looking for customers, and universities are looking for opportunities to pilot their IoT research projects in real-world environments. The workshop will be a great place for all these groups to team up in mutually beneficial ways." 
This new challenge will build on the success of the GCTC's first round, which began in September 2014 and created 64 teams of more than 50 cities and 230 organizations. The teams demonstrated the tangible benefits of using the IoT to improve quality of life, focusing on solutions that could be deployed across multiple cities. More than 1,400 people attended the final expo in June 2015, including the King and Queen of the Netherlands. 
The second round has been expanded to run in two phases over 20 months, in response to team recommendations from the first challenge. In the first phase, culminating in June 2016, participants will focus on creating plans for deploying their projects and proposals for measuring their success; the second phase will focus on actual deployment and measuring benefits in the real world. The accomplishments of the teams will be showcased at an exposition planned for June 2017. 
Examples of smart city projects from this new round of the challenge include the following: 
Las Vegas, Los Angeles and Atlanta, together with AT&T and IBM, are developing a network to identify leaks in city infrastructure water pipes, a problem that causes up to 40 percent of unexplained water losses in cities worldwide. 
In Austin, Tex., Alliander and Pecan Street Inc. are helping homeowners install resilient and economical solar power systems that will enable them to store power or sell it back to the grid. 
Amsterdam (the Netherlands), together with Accenture, Siemens and other partners, have developed a data collection and planning tool that will help cities plan energy usage that reduces both cost and carbon emissions. 
To support the challenge, NIST has teamed with US Ignite, a nonprofit focused on the creation of next-generation Internet applications that provide transformative public benefit. Partners in the challenge will include the National Science Foundation; the International Trade Administration; the U.S. Departments of Transportation and State; the International Trade Administration; the private sector's IBM and AT&T; nonprofits WeGO, FIWARE and the Industrial Internet Consortium; and the governments of the Netherlands and South Korea. Other participating members include Intel, Qualcomm, Bosch, Siemens, CH2HL, Mathworks, Pecan Street Inc., Yet Analytics, MIT, Vanderbilt, UT Dallas, the University of North Texas and Ohio State University. 
Register here for the November 2015 workshop. Learn more about the challenge here. 
As a non-regulatory agency of the U.S. Department of Commerce, NIST promotes U.S. innovation and industrial competitiveness by advancing measurement science, standards and technology in ways that enhance economic security and improve our quality of life. To learn more about NIST, visit www.nist.gov.