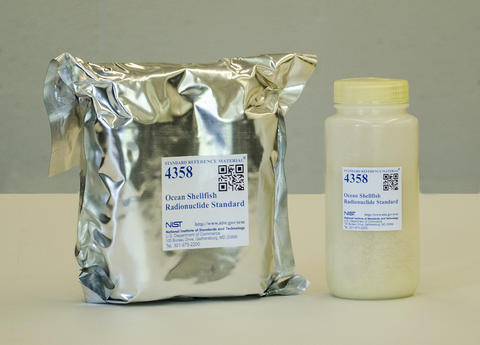 A new reference material that will help laboratories accurately measure radioactive contamination in seawater is now available from the National Institute of Standards and Technology (NIST). 
The new reference material, a mixture of freeze-dried, powdered shellfish, provides a benchmark for scientists analyzing the local ocean environment's level of contamination—for example, after an accident such as the 2011 nuclear plant disaster in Fukushima, Japan. The material, formally NIST Standard Reference Material (SRM) 4358, is made from shellfish that contain low but well-characterized amounts of several radioactive elements. Reference materials that are certified by NIST to have certain known measurement values help researchers calibrate measurement equipment and validate their own analysis methods with greater precision. 
"In particular, this SRM will help laboratories measure radioactivity levels in seafood," says NIST's Svetlana Nour. "It will help them to screen more samples in a shorter period of time." 
The reference material contains a powdered mixture of oysters and mussels collected from three locations: the Irish Sea, the White Sea and the Sea of Japan before 2011. Each of these water bodies possesses some level of radioactive contamination. 
"The radioactive contamination of the ocean is a concerning environmental problem," Nour says. "Shellfish are important indicators because of their capacity to accumulate radioactive elements from seawater." 
Each reference bottle holds 150 grams of powder that contains specific amounts of radioactivity. More than 1,500 bottles were produced, which could supply the radiochemistry community with an anticipated 10-year supply of the SRM according to previous estimates. 
NIST created this reference material with the assistance of 11 other laboratories from nine countries, including several other national metrology institutes. The labs involved used several different extractions and analysis methods to characterize the radioactive content of the shellfish. Nour says the reference material benefits from the support and experience of the other labs that participated in its development. 
"Creating an SRM like this is costly and time-consuming work," she says, "but it's important to have them so we can make good measurements that would allow good and quick decisions when a specific contamination situation occurs." 
SRM 4358, "Ocean Shellfish Radionuclide Standard," is available for purchase from NIST. A complete technical description of the SRM and the details of its development was published* in 2013 in the Journal of Radioanalytical Nuclear Chemistry.
---
S. Nour, K.G.W. Inn, J. Filliben, H. van der Gaast, L.C. Men, D. Calmet, T. Altzitzoglou, P. Povinec, Y. Takata, M. Wisdom, K. Nakamura, P. Vesterbacka, C.C. Huang and S.M. Vakulovsky. Characterization of the NIST shellfish Standard Reference Material 4358. Journal of Radioanalytical Nuclear Chemistry, DOI: 10.1007/s10967-012-2204-1, 2013 (296: pp.301–307).