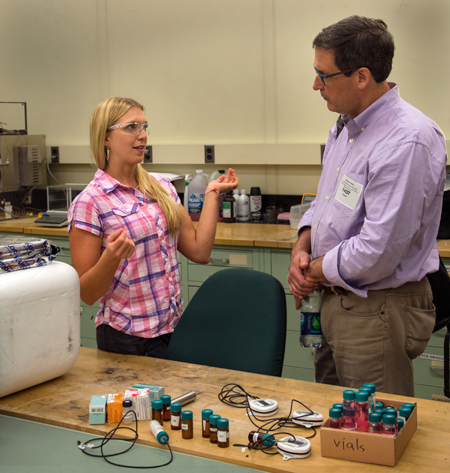 This month, a representative from the Bill and Melinda Gates Foundation visited the vaccine thermometry laboratory of Michal Chojnacky, of NIST PML's Thermodynamic Metrology Group.
Stephen Hadley, Gates Foundation Senior Program Officer for Vaccine Development, was interested in Chojnacky's collaborative research with the Centers for Disease Control and Prevention (CDC) to improve temperature monitoring and control of vaccines during storage.
Hadley's trip was part of a mission to gather information about innovative solutions for temperature-related challenges, for the purpose of funding and brokering relationships – what he calls "matchmaking" – between different groups working on these and related issues. The Gates Foundation "invest[s] heavily in vaccines to prevent infectious diseases...including HIV, polio, and malaria...," according to their website.
Chojnacky says Hadley was particularly interested in devices that would allow temperature-sensitive vaccines to be stored in areas without electricity for up to 30 days. Though not explicitly addressing the challenge of vaccine storage in areas without electricity, Chojnacky's work includes a "cooler study" to develop simple solutions that would allow providers to safely transport vaccines during power outages and other emergencies.
The Gates Foundation visit follows a proposal by the CDC to collaborate with NIST PML on developing best practices for maintaining vaccines within their specified storage temperature range during transport.
This proposed effort would built upon a previous collaboration between PML and the CDC on maintaining vaccines within their specified temperatures during storage.
The overall goal of this most recent NIST-CDC collaboration is to lower the rate at which vaccines are lost due to excursions beyond the acceptable range of temperatures, which can occur during transportation between the manufacturing location and place of administration. These losses can be estimated to cost between $500 million and $1.25 billion per year, based on the findings of a large-scale analysis published in 2007.*
PML's work supports the CDC's Vaccines for Children program, which provides free vaccines to U.S. children who are underinsured or otherwise unable to pay.
*D.M. Matthias, J. Robertson, M.M. Garrison, S. Newland, C. Nelson. Freezing temperatures in the vaccine cold chain: A systematic literature review. Vaccine, 25, 3980-3986 (2007).
--Reported and written by Jennifer Lauren Lee