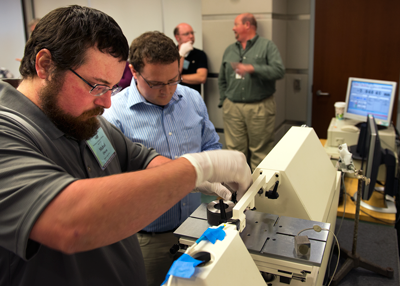 Earlier this month, PML's Dimensional Metrology Group hosted a three-day hands-on training event for 13 industry and government attendees. The class was given in response to an industry-identified need regarding lack of opportunities for training in uncertainty budget development for advanced measuring systems.
"Uncertainty training is usually very formal and mathematical," says PML's Ted Doiron, who developed and led the workshop, which was held April 7-9 on NIST's Gaithersburg campus. "In this workshop, the attendees physically measure the errors caused by each source of uncertainty, which we hope gives them a more physical intuition of uncertainty."
Attendees included representatives from six accredited calibration labs, two unaccredited calibration labs, three government labs (representing the Army, the Navy, and Sandia National Laboratories), one manufacturing company, and one National Metrology Institute – the Trinidad and Tobago Bureau of Standards, a member of the Sistema Interamericano de Metrologia (SIM) which comprises metrology organizations from 34 countries in the Americas.
The workshop focused on training participants to identify and characterize error sources common to length measurements performed using one of the most common pieces of equipment found in dimensional laboratories, the Universal Length Measuring Machine (ULMM). About the size of an industrial photocopier, the instrument is used to make precise one-dimensional length measurements of objects including but not limited to the diameters of spheres, cylinders, and ring gauges, as well as other one-dimensional quantities. The machine works by allowing metrologists to perform comparison measurements, where the dimension of the object being tested is compared to that of a known standard.
Participants got hands-on experience quantifying sources of error such as temperature and mechanical deformation, making scale and force calibrations, and gauging the parallelism and flatness of the measurement contacts. The training also covered scale interpolation errors that Doiron says are generally not known in the dimensional metrology community.
In addition to making the measurements and analyzing their results, attendees visited the Dimensional Metrology Group's onsite laboratories and had time to converse with group members.
"The class seemed very enthusiastic about the experience," Doiron says. "The students particularly liked the opportunity to discuss metrology and their laboratory equipment and environment with nationally recognized experts."
Even though the workshop was not extensively publicized, more people wished to attend than could be accommodated, so the group is already planning to hold a second workshop in the fall. They will do a little more publicity for this one, but Doiron says it's important to keep the class size manageable.
"For the workshop to succeed, each attendee must make measurements, and everyone needs time to discuss metrology in an informal setting," he says. "Even 12 attendees is borderline too large."
-- Reported and written by Jennifer Lauren Lee