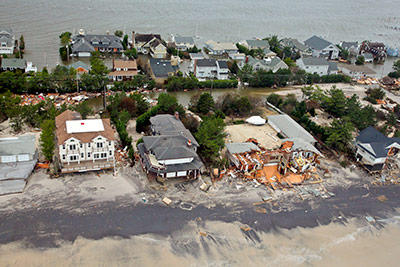 HOUSTON—The U.S. Commerce Department's National Institute of Standards and Technology (NIST) today issued a draft guide to help communities plan for and act to keep windstorms, floods, earthquakes, sea-level rise, industrial mishaps and other hazards from inflicting disastrous consequences.
NIST is requesting public feedback on the draft Community Resilience Planning Guide for Buildings and Infrastructure, which Acting Under Secretary of Commerce for Standards and Technology and Acting NIST Director Willie May unveiled during a workshop at Texas Southern University in Houston today.
The official first version of the guide will be released this fall and updated periodically as new building standards and research results become available and as communities gain experience using the guide and recommend improvements.
"The guide helps to translate the concept of community resilience into practice," May said at the workshop. "We need stakeholder input to ensure that the guide will be an effective tool for helping communities to not only 'weather the storm' but also to bounce back quickly and efficiently."
According to data collected by the Commerce Department's National Oceanic and Atmospheric Administration (NOAA), over the last four years, the nation experienced 42 extreme weather events that caused at least $1 billion in damage, for a total cost of about $227 billion and 1,286 lives lost. In all, there were 334 major disaster declarations in the United States between 2010 and 2014. According to a separate tally by the Center for Research on the Epidemiology of Disasters in Belgium, the United States experienced about 500 natural disasters between 1994 and 2013, ranking second globally, behind China. The 10 deadliest of these U.S. disasters killed more than 4,000 people.
"Resilience planning is not a stand-alone activity," said NIST structural engineer Therese McAllister, who led development of the planning guide. "The guide recommends that communities integrate their resilience plans into economic development as well as zoning and other local planning activities that impact buildings, public utilities and other infrastructure systems that residents rely on for important services."
The guide lays out a six-step process that starts with the formation of a resilience team drawn from the community and culminates with the development and implementation of resilience strategies that are updated regularly. The resilience team's role is to engage community representatives in a series of efforts that include defining how vital social functions like healthcare, education and public safety are supported by local buildings and infrastructure systems, such as power, water and transportation.
This information helps to address a critical question: When do buildings and infrastructure systems that support social functions need to be restored so that recovery is not deferred and the community's longer-term ability to serve local residents does not deteriorate?
The guide is an important addition to the National Preparedness System, which provides a way to organize preparedness activities and programs. Nearly 24,000 U.S. communities have developed mitigation plans that aim to reduce the risk of damage from a hazard, according to the Federal Emergency Management Agency (FEMA). Effective mitigation measures will, for example, protect a building from flooding, but factoring in resilience will help to ensure that the structure also has power and water during recovery.
The draft guide consists of two volumes. The first provides an overview of community resilience and summarizes the six steps involved in developing and implementing a resilience plan. It also provides an example of how a fictional community uses the framework to plan and guide resilience efforts.
The second volume serves as a detailed resource to support the six steps. It includes comprehensive sections on characterization of social and economic functions, buildings, transportation, energy, communication, water and wastewater and community resilience metrics.
NIST led the development of the draft guide, convening four regional meetings to gather stakeholder input. It engaged nine outside experts in disciplines ranging from buildings to public utilities and from earthquake engineering to sociology to assist in drafting the guide. NIST also drew on its own expertise, developed through its detailed studies of more than 50 disasters and building failures, including the collapse of the World Trade Center buildings and the 2011 Joplin, Mo., and Moore, Okla., tornadoes. NIST expertise also comes from ongoing research to improve the structural performance of buildings and technical contributions to the development of building standards and codes by other organizations. NIST has no regulatory authority.
The 60-day public review of the draft Community Resilience Planning Guide for Buildings and Infrastructure has been announced in the Federal Register. For more information on NIST's Community Disaster Resilience Program, visit the NIST website.
As a non-regulatory agency of the Commerce Department, NIST promotes U.S. innovation and industrial competitiveness by advancing measurement science, standards and technology in ways that enhance economic security and improve our quality of life. To learn more about NIST, visit www.nist.gov.