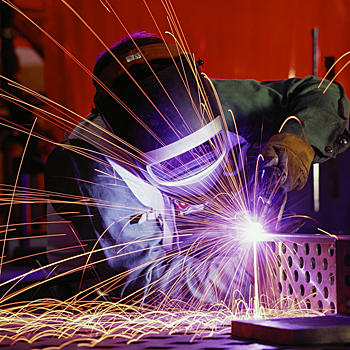 In a guest post on The Commerce Blog, NIST's Associate Director for Innovation and Industry Services Phillip Singerman discusses a new Federal Funding Opportunity in support of manufacturing.
During his visit to Cleveland, Ohio, President Obama highlighted increased investment in a unique program that makes sure small and medium-size U.S. manufactures have the support they need to innovate, grow and succeed.
The president visited the Manufacturing Advocacy and Growth Network (MAGNET), one of 60 centers across the country in the National Institute of Standards and Technology's (NIST) Hollings Manufacturing Extension Partnership (MEP). MAGNET is one of the Ohio MEP affiliates located at Cleveland State University. These centers have helped manufacturers such as Ohio-based Wright Materials Research and Heather Moore Jewelry make improvements that led to the hiring of new staff, sped delivery of their products and generated new sales.
As a new report released by the White House (which was supported by our colleagues at the Economics and Statistics Administration) finds that small and medium-size companies like these form the backbone of America's manufacturing supply chains and employ nearly half of all U.S. manufacturing workers.
There are many success stories in MEP's 26-year history that demonstrate the benefits of investing in these manufacturers. And we plan to support many more. MEP has issued a Federal Funding Opportunity for non-profit organizations to operate centers in Alaska, Idaho, Illinois, Minnesota, New Jersey, New York, Ohio, Oklahoma, Utah, Washington, West Virginia and Wisconsin. This is the second round of competitions in a multiyear effort to update MEP's funding structure and will strengthen the network. We announced the first competition awardees in February 2015.
The awardees in this new competition will receive a total of nearly $32 million annually for five years from MEP, and all of that funding will be matched at a minimum dollar-for-dollar by non-federal sources. Over the course of the five-year awards, more than $320 million total federal and non-federal investment will be provided to support the small and medium-size manufactures in these states.