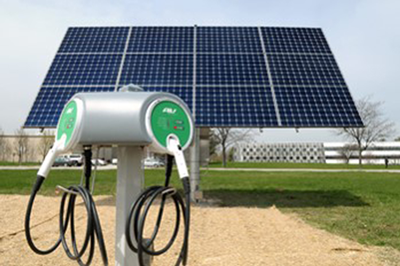 Plug-in electric vehicles make up a growing share of the nation's rolling stock and are prompting increased demand for the electrical equivalent of the corner gas station. But how should customers be charged for their charge, and what requirements should operators meet? Until recently, those were open questions that led to consumer and regulatory confusion.
Now a standard produced by NIST's U.S. National Work Group on Electric Vehicle Refueling and Submetering appears to be on its way to adoption when the National Conference on Weights and Measures (NCWM) votes on the proposed code this summer.
"While manufacturers of electric vehicle refueling equipment may have standards related to issues such as fueling connections and safety, they have no 'legal metrology' standards relating to the use of that equipment for selling electric energy," says Tina Butcher of NIST's Office of Weights and Measures (OWM). "And as more and more jurisdictions were finding these stations being installed, questions kept coming up about how to regulate this equipment. So in 2012, NIST formed a panel to investigate these issues and make recommendations."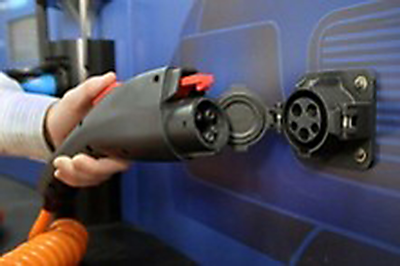 One of the first questions the group tackled was the method of sale. This is the kind of determination that is made, for example, about whether a certain kind of product should be sold by weight or volume or some other method. Initially, many electric refueling stations had been pricing their service by vehicle time spent at the charger. But, because time is not a reliable way to reflect how much, if any, electrical energy has been transferred to a vehicle, that method made it difficult for consumers to conduct informed value comparisons of different vendors. "Moreover," Butcher says, "it also made it difficult for businesses to compete."
Finally the NIST group, which relied heavily on California's rules and practices for electric sub-metering as well as related ANSI standards as a starting point, concluded that electrical energy should be sold by the kilowatt hour (kWh) and regulators agreed. In addition, stations may charge for other services, such as parking, since typical vehicle charging times range from 20 minutes to several hours. These provisions now appear in NIST Handbook 130, Uniform Laws and Regulations in the Area of Legal Metrology and Fuel Quality.
Since then, the work group – which includes representatives from manufacturers, regulators, users, and other stakeholders – has gone on to propose requirements for accuracy, testing, and use of charging equipment and metering systems, as well as factors such as price labeling (e.g., cents per kWh) and security. The draft proposal was endorsed by the NCWM's Specifications and Tolerances Committee in January 2015. It is expected to be adopted by the NCWM's voting membership in July. If so, the tentative code will be added to NIST's widely used Handbook 44, Specifications, Tolerances, and Other Technical Requirements for Weighing and Measuring Devices.
But that doesn't mean the work will be completed. "A subcommittee within the larger work group is still working on answering the question of how to test these devices," Butcher says. That will entail, among other tasks, finalizing a draft of an Examination Procedure Outline that describes the methods and operations needed for ensuring accuracy and compliance with other requirements and defining requirements for standards used to test the equipment. Additionally, the work group will be developing similar standards and procedures for electric submeters that fall under the purview of weights and measures jurisdictions. OWM will also be involved in the development of training on how to conduct testing of this equipment.
Meanwhile, the new proposed standards have received extensive support from weights and measures officials and industry. The National Electrical Manufacturers Association submitted a letter voicing approval and praising NIST's "exemplary" leadership in the development of a code that the organization said satisfies its members' needs and will help to accelerate growth of the infrastructure for this alternative fuel.
"We are very pleased with the response," says Carol Hockert, chief of OWM. "It demonstrates once again the value of working together with a broad range of stakeholders to develop standards that will help ensure equity for both buyers and sellers."