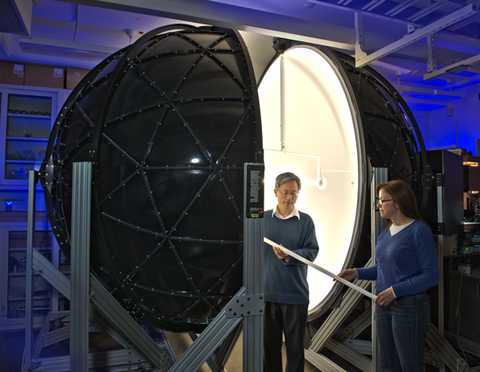 LED lights are notably cool. But as an industry sector, solid-state lighting (SSL) keeps heating up, with demand growing rapidly in residential, commercial, and other applications, and new models continually coming to market. As a result, it is increasingly important for manufacturers and test labs to be able to accurately measure the properties of the latest SSL devices and systems, including their total lumen output, color temperature, hue/saturation, power consumption, efficiency, and more.
To meet that need, NIST has now begun offering customers the second generation of its highly successful SSL Measurement Assurance Program (MAP-2), including a new set of lamp artifacts, new detailed measurement protocols, and revised operations.
"Usually new LED products only stay on the market for about 12 months, and the technology keeps changing," says Maria Nadal of NIST's Optical Radiation Group. "So we need to update the program periodically with new technology that represents different measurement challenges."
The MAP-2 artifact kit consists of a set of lamps whose properties have been extensively and precisely characterized at NIST. Customers make their own measurements according to the protocols and then send their results back to NIST along with the lamps. NIST then re-measures each lamp in case it was affected in shipment, averages the values with those from the original measurements, and sends back a report showing how the customer's measurements compare to NIST's. In general, differences greater than plus or minus 4% are scored "fail" for that measurement.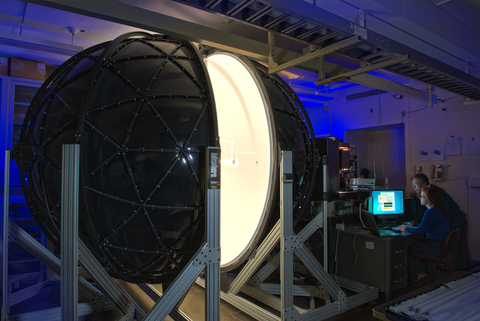 "Participants who fail on one or more measurements will implement corrective actions and if the corrective actions involve retesting a lamp or lamps, you must contact NIST and arrange to receive a similar lamp(s) for a fee," Nadal says. "Nearly all labs eventually correct the problems."
MAP-2, which began in January of 2015, includes an updated set of lamps for general illumination that are representative of the current residential market, including some selected for specific measurement challenges. The program is of particular significance to laboratories that need periodic accreditation and proficiency testing—typically every two or three years – to meet, for example, the Illuminating Engineering Society standard IES LM-79, developed with support from PML staff, or to participate in the Department of Energy's Energy Star program.
The new program's predecessor, MAP-1, ran for four years, serving 120 customers worldwide. MAP-2 is expected to run for three years and is available to any testing laboratory for a service fee ranging from $4000.00 for a kit designed for 8 or 10 measurements to $5400.00 for lamps to make 12 different measurements, including some on compact fluorescent lights.
Participants may, if they choose, also receive at no cost two of the latest versions of 4 foot LED tube lights – one that operates with a conventional ballast like fluorescent tube fixtures, and one that runs on 120 volt / 60Hz current with no ballast.
In addition, each participant is being asked to measure the output of an included incandescent bulb using both alternating and direct current. The results will not be included in the pass/fail analysis, but will add to NIST's understanding of 4-pole socket problems since this lamp uses a significant amount of current.
Aside from providing proficiency testing for labs, the program has a larger goal. "By collecting data anonymously from all customers," says Cameron Miller, leader of the Optical Radiation Group "we can get a sort of snapshot of the state of the measurement community. That will show us where we need to improve standards, and help identify factors that are still poorly understood."
See also: