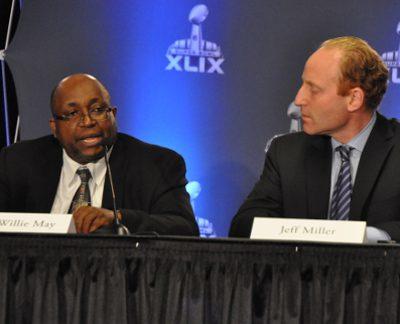 NEW YORK (January 29, 2015) – The NFL, GE (NYSE:GE) and Under Armour (NYSE:UA), today announced that they have joined with the U.S. Department of Commerce's National Institute of Standards and Technology (NIST) to launch Head Health Challenge III, an open innovation competition to advance materials that better absorb or dissipate energy. These new materials could improve the performance of protective equipment for athletes, military personnel and those in dangerous occupations.
The challenge, which will award up to $2 million for innovative materials, is part of the $60 million Head Health Initiative, a multiyear collaboration between GE and the NFL. Launched in March 2013, the initiative includes a four-year, $40 million research and development program from GE and the NFL to develop next generation imaging technologies to improve diagnosis of mild traumatic brain injury. The initiative also includes $20 million open innovation challenges to address better ways to improve diagnosis, prognosis and protection from brain injury.
The Head Health Challenge III aims to support the discovery, design and deployment of advanced materials that can improve the protection of athletes, members of the military and others from brain injuries by better absorbing and mitigating force. Additionally, NIST will work to refine measurement approaches, convene the research and industry communities to assess the state of performance testing for impact energy absorbing/dispersing materials and identify gaps in these measurements. The ultimate goal will be to develop standard testing methods for these materials systems over the next several years.
Entries will be judged by leading experts in the field of materials science who will select six winners to receive a $250,000 award each to advance their work in developing technologies that can help prevent mild traumatic brain injury. One overall winner will be selected from the six and will receive an additional $500,000 to further develop their innovation. The challenge will open for applications on Monday, February 2, 2015 at 9 a.m. EST. All entries must be submitted by March 13, 2015 at 5 p.m. EST at www.challenge.gov. Full terms and conditions.
The open competition will encourage individuals and organizations from all sectors of the broad materials science and engineering community—aerospace, automotive, physical security, packaging, or other industry sectors—to submit innovative materials for consideration.
Alan Gilbert, director healthymagination, GE said, "We welcome the partnership and expertise of NIST in our efforts to bring together the smartest scientists, innovators and engineers to tackle this challenge. Partnerships like the one we have with the NFL, Under Armour—and now NIST—accelerates development, meaning better materials for preventing injury, better tools for physicians, and better treatments for patients."
San Francisco 49ers Chairman Dr. John York, chairman of the NFL owners' health and safety committee said, "This public-private partnership holds great promise to advance protective equipment through new and better materials. We are confident that the Head Health Initiative will yield results far beyond the playing field."
Kevin Haley, senior vice president, innovation, Under Armour said, "Partnering with NIST is a natural progression for the Head Health Initiative. Through this collaboration, NIST will explore new testing and standards for angular impacts incurred in sport. Additionally, by identifying new impact mitigating materials we're aiming to improve overall head health."
Willie May, acting undersecretary of commerce for standards and technology and acting NIST director said, "Through the Head Health Challenge III partnership, we want to engage the most creative technical experts to identify advanced materials that improve the health and safety of athletes, soldiers, and first responders. We're glad to be joining the strong collaboration already established by the NFL, GE, and Under Armour in finding solutions to this important national challenge. Public-private partnerships such as this are essential to NIST's mission to foster innovation."
The Challenge III judges are:
Jeff Crandall, professor in Engineering and Applied Sciences at the University of Virginia. Crandall's research focuses on mechanisms of injury under impact loading.
Sharon Glotzer, Ph.D., professor of Chemical Engineering at the University of Michigan. Glotzer's research focuses on the ability to manipulate matter at the molecular, nanoparticle, and colloidal level to create "designer" structures.
Heinrich Jaeger, Ph.D., professor of Physics at the University of Chicago. Jaeger's team at the University of Chicago is involved in projects ranging from the assembly of next-generation nanostructures to investigations of the complex nonlinear behavior of granular materials, including grain, gravel, pharmaceutical pills and ultrafine powders.
Michael Maher, program manager for the Defense Sciences Offices at the Defense Advanced Research Projects Agency (DARPA). Maher's current interests include development of new technologies to reduce the manufacturing cycle time and novel lightweight multifunctional material systems.
Tresa Pollock, Ph.D., chair of the Materials Department at the University of California – Santa Barbara. Pollock's current interests include the mechanical and environmental performance of materials in extreme environments, unique high temperature materials processing paths, ultrafast laser-material interactions, alloy design and 3-D materials characterization.
Alton D. Romig, Ph.D., vice president and general manager of Advanced Development Programs Engineering and Advanced Systems, known as Skunk Works, for Lockheed Martin Aeronautics. In this role, Romig focuses on generating breakthrough technologies and designs for aircrafts and is known as the leader in aerospace innovation.
Alan Taub, Ph.D., professor of Materials Science and Engineering at the University of Michigan. Taub is pursuing research in advanced materials and processing and leading an initiative to establish a new center within the U-M College of Engineering that will focus on advanced manufacturing of lightweight material structures for automotive and aerospace applications.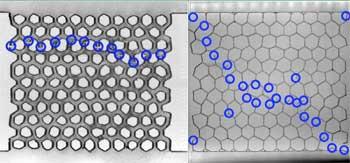 The Head Health Challenge III collaboration helps implement a pledge by NIST and the Department of Commerce to invest resources to accelerate the development of materials that can protect against concussions, made at the White House's Healthy Kids and Safe Sports Concussion Summit in May 2014.
Founded in 1901, NIST is one of the nation's oldest physical science laboratories. Today, NIST measurements support technologies from the smallest nanoscale devices to the largest and most complex engineering systems. As part of Challenge III, NIST's measurement expertise in materials science will be essential to identifying promising technologies, testing the winners' products under state-of-the-art laboratory conditions and providing technical guidance to the winners as they seek to improve their innovations.
Overall, the three Head Health innovation challenges will provide as much as $20 million in research and technology development to better understand, diagnose and protect against brain injury. Head Health Challenge I focused on discovering imaging and algorithms that will be able to better detect and analyze subtle changes in the brain. Challenge II focused on new materials and technologies that can protect the brain from traumatic brain injury and new tools for tracking head impacts in real time.
Learn more about about Head Health Challenge III.
About The National Football League
Throughout its history, the NFL has made the health and safety of its players a priority. This commitment extends to football played at all ages, as well as other sports. At the youth level, the NFL's partnership with the Centers for Disease Control and Prevention and the league's support for USA Football, including the Heads Up Football initiative, helps parents, coaches, clinicians and athletes understand the signs and symptoms of head injuries. The league has successfully advocated for the passage of youth concussion laws in all 50 states. Through funding for medical studies, including a $30 million grant to the National Institutes of Health for medical research; collaboration with the military on research and recognizing and reporting potential head injuries; and the work of the NFL's medical committees, the NFL is committed to supporting and advancing science that will have an impact beyond football. With a continued emphasis on improved equipment, rules changes, and in-game policies, the NFL fosters a culture that promotes health and safety at every level of the game.
About GE
GE (NYSE: GE) works on things that matter. The best people and the best technologies taking on the toughest challenges. Finding solutions in energy, health and home, transportation and finance. Building, powering, moving and helping to cure the world. Not just imagining. Doing. GE works. For more information, visit the company's website at www.ge.com.
About Under Armour, Inc.
Under Armour (NYSE:UA), the originator of performance footwear, apparel and equipment, revolutionized how athletes across the world dress. Designed to make all athletes better, the brand's innovative products are sold worldwide to athletes at all levels. Under Armour's wholly owned subsidiary, MapMyFitness, powers one of the world's largest Connected Fitness communities. The Under Armour global headquarters is in Baltimore, Maryland. For further information, please visit the Company's website at www.uabiz.com.
About NIST
As a non-regulatory agency of the U.S. Department of Commerce, NIST promotes U.S. innovation and industrial competitiveness by advancing measurement science, standards and technology in ways that enhance economic security and improve our quality of life. To learn more about NIST, visit www.nist.gov.
This release was issued jointly by NIST, the NFL, GE & Under Armour.
CONTACTS:
Clare Graff
NFL
212-450-2435
clare.graff [at] nfl.com
Megan Parker
GE
646-682-5605
megan.parker [at] ge.com
Diane Pelkey
UnderArmour, Inc.
410-246-5927
dpelkey [at] underarmour.com
Gail Porter
National Institute of Standards and Technology
301-975-3392
gail.porter [at] nist.gov
###