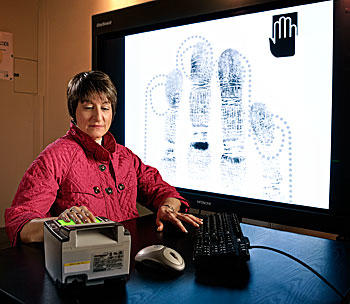 Registration is now open to attend a NIST symposium on one of the biggest challenges facing the advancement of forensic science and biometric technology – the development of large research datasets.
In order to develop and evaluate forensic and biometric technologies, such as fingerprint matching or facial recognition systems, researchers need large research databases containing examples of biometric and forensic data. System developers use such data to test the performance of new technologies and to quantify the uncertainty associated with matching algorithms. 
The symposium is scheduled for Monday, Jan. 26 through Tuesday, Jan. 27, 2015, at the NIST campus in Gaithersburg, Md. The symposium will specifically address issues related to both biometric and forensic aspects of finger/palmprints, iris, face, person-at-a-distance, voice, and handwriting patterns. Agenda topics include:
the role of research datasets in improving biometric and forensic technology
challenges in the collection and use of biometric and forensic datasets
privacy and legal issues in the collection, distribution and use of biometric and forensic datasets
NIST's biometric and forensic research database catalog overview, and
statistical significance in biometric and forensic datasets.
The symposium is free, but attendees must pre-register for access to the NIST campus. Get more information and register online. Sign up to receive NIST forensic science news updates at www.nist.gov/forensics.