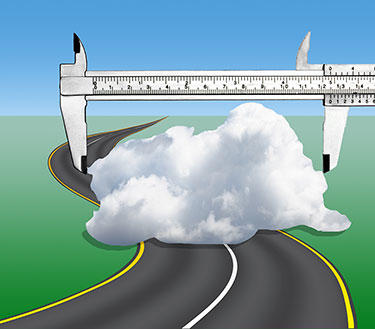 As government agencies and other organizations invest in cloud computing services, they are challenged to determine which cloud provider and service will best meet their needs. As the nation's official measurement experts, the National Institute of Standards and Technology (NIST) has developed a guide to creating cloud metrics that could aid decision makers in finding the cloud service that is "just right."
The new NIST guide, which is being offered as a draft for public comment, proposes a model for developing metrics—objective measures of capabilities and performance—that cloud-shopping organizations can use to navigate a rapidly expanding marketplace.
New cloud computing providers and services are entering the market at a dizzying pace. Different organizations and groups often use the same cloud computing terms with slightly different, or even contradictory meanings, leading to confusion among cloud service providers, customer and carriers. The lack of clear definitions for cloud computing terms makes them inherently immeasurable.
The key to choosing a good cloud service, according to NIST experts, is having clear, measurable requirements and data on those capabilities such as quality of service, availability and reliability. The NIST definition of cloud computing* includes "measured service" as one of five essentials characteristics of cloud.
The new NIST publication Cloud Computing Service Metrics Description** discusses the basic nature of the problem of measuring cloud services and offers a model and method for developing appropriate cloud metrics. A metric provides knowledge about characteristics of a cloud property through both its definition (expression, measurement unit, rules) and the values resulting from the observation of the property. Metrics must be well-defined and understood by cloud stakeholders—particularly customers and service providers—so they can rely on them with confidence.
For example, many people use an email service based in a cloud. One potential cloud metric, a customer response metric, could be defined as the time it takes from someone hitting "send" on an email until it's delivered to a recipient on the same cloud service. The metric should provide the necessary information needed to reproduce and verify observations and measurement results.
Metrics can play a critical role in selecting cloud services, but they also help in other ways such as in defining and enforcing service agreements that organizations contract with providers. They also could be used to provide a rigorous foundation for monitoring cloud services and for accounting and auditing.
NIST is responsible for accelerating the United States Government's secure adoption of cloud computing by leading efforts to develop standards and guidelines. This document grew out of a working group on cloud metrics that included an international mix of members from the public, private and academic sectors.
The deadline for comments on Cloud Computing Service Metrics Description is midnight, January 24, 2015. Please send comments to Frederic de Vaulx, National Institute of Standards and Technology, 100 Bureau Dr., Stop 8970, Gaithersburg, MD 20899, or to frederic.devaulx [at] nist.gov. For more on the NIST cloud computing program, see www.nist.gov/itl/cloud/.
* P. Mell and T. Grance. The NIST Definition of Cloud Computing (NIST Special Publication 800-145). September 2011. Online at: http://csrc.nist.gov/publications/nistpubs/800-145/SP800-145.pdf.
**NIST Cloud Computing Reference Architecture and Taxonomy Working Group. Cloud Computing Service Metrics Description (NIST Draft Special Publication 500-307). December 2014. Online at: www.nist.gov/itl/cloud/upload/RATAX-CloudServiceMetricsDescription-DRAFT-20141111.pdf.