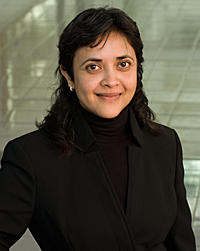 Hemma Prafullchandra, chief technology officer and senior vice president of products at HyTrust, has been named to the National Institute of Standards and Technology's Visiting Committee on Advanced Technology (VCAT). Acting Under Secretary of Commerce for Standards and Technology and Acting NIST Director Willie May appointed Prafullchandra to a three-year term.
At HyTrust, a company specializing in security automation, Prafullchandra is responsible for strategy and the company's innovative work in information security for cloud computing. She has more than 25 years of industry experience in the field of security, with expertise in virtualization, cloud computing, operating systems, Java2, firewall, PKI, email, Web services, managed services and strong authentication. Prior to HyTrust, she held senior management and technical positions at FuGen Solutions, VeriSign, Critical Path, Sun Microsystems and The Wollongong Group.
She has authored numerous patents, and is an active participant in many industry and standards bodies, including the Payment Card Industry Security Standards Council, the Cloud Security Alliance and NIST's National Cybersecurity Center of Excellence. Prafullchandra has presented numerous times at RSA U.S. and Europe, VMworld, ISACA, ISC2 and other industry events. She is recognized as one of the 2014 Power Players in IT Security.
Prafullchandra holds a B.S. with honors in computer science and electronic engineering from University College London.
The VCAT was established by Congress in 1988 to review and make recommendations on NIST's policies, organization, budget and programs. The next VCAT meeting will be Feb. 4 and 5, 2015, in Gaithersburg, Md. For more information on VCAT and the meeting, visit www.nist.gov/director/vcat/.